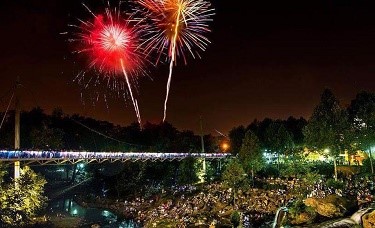 July 4th-Celebrate Our Nation!
On the evening before Independence Day, Clemsonfest kicks off numerous area festivals.  Join thousands of revelers for family fun in the early evening of July 3rd.  Later enjoy live music as the fireworks ring in the 4th. There is a $10.00 admission charge per car or $5 per person.
Red, White, and Blue is Greenville's premier 4th of July celebration, showcasing one of the state's largest fireworks displays. The free event features live music on two stages, fun-filled activities in the Kidz Zone and a variety of popular food and beverage vendors. The event takes place in downtown Greenville from Broad Street to Augusta.
At Hillbilly Day, you won't find any fireworks, but at one of the oldest festivals in the state, you'll find clogging, square dancing, country and bluegrass music, crafts, food, soap making and old-time games. Take a break from the same old 4th of July routine and head to Mountain Rest. Free admission and parking.
Red, White, and Boom will be at Barnet Park and is the perfect setting for Spartanburg's Independence Day celebration. Enjoy great food, including BBQ, funnel cakes, burgers, hotdogs, philly cheese steaks, ice cream, and more!  Patriotic music by the Spartanburg Community Band then a major musical act to dance the night away. And last but not least, enjoy a Spectacular Fireworks! General admission: $5
Cowpens National Battlefield will hold its Celebration of Freedom event on July 6 with guided battlefield walks, weapons firing demonstrations, and children's activities. It's living history and fun for the whole family!