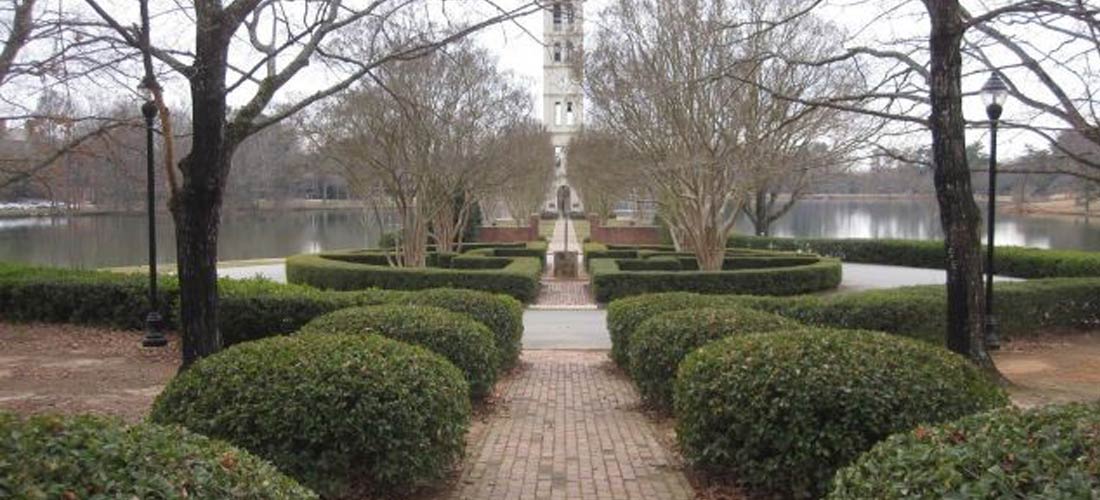 Explore Beautiful Furman University on Lake Loop Trail
With its many parks and green spaces, Greenville has no shortage of pleasant places to walk. One of the prettiest can be found on the Furman University campus.
South Carolina's oldest private institution of higher learning, Furman was named one of the 362 most beautiful places in America by the American Society of Landscape Architects. Travel + Leisure magazine ranked it among America's most beautiful college campuses.
Easily Tour The Campus
A 13-mile network of paved trails offers visitors the opportunity to explore the 750-acre wooded campus. The university also features a self-guided walking tour that takes you past most of the notable buildings. You can pick up a campus map outside the Welcome Center near the main entrance.
The most popular route in the trail system is a 1.5-mile loop around the university's 40-acre, spring-fed lake with its stunning view of Paris Mountain. The centerpiece of the college campus, it is home to Furman's famed Bell Tower. Dedicated in 1965, the carillon sits on a peninsula at one end of the lake and features 60 bells that were cast in Holland. It was built to the same specifications as the original Florentine tower erected in 1854 on the former Furman campus in downtown Greenville.
Notable Points of Interest
As you make your way around the lake, you'll come across a number of other points of interest, including a rose garden, a replica of the cabin inhabited by Henry David Thoreau while writing "Walden" and the two-classroom clapboard "Old College" built in 1851.
You'll also pass the Place of Peace, the first Japanese temple ever to be brought to America. The Hei-Sei-Ji temple was donated to the liberal arts school by the Tsuzuki family, residents of both Greenville and Japan. A team of Japanese experts reconstructed the temple using more than 2,400 pieces that had been shipped from the original site in Nagoya, Japan.
Adjacent to the Place of Peace is the Asia Garden and koi pond. The Asia Garden has been featured in The Charlotte Observer as one of the 12 great drive-to gardens in the Carolinas. Take your time meandering among the flowering plants and water features, designed for contemplation and meditation.
A one-mile spur trail near the picnic shelter takes you through another meditation area in the woods.
Learn more about Furman University's trails or schedule a visit.
By Marie McAden, SC Insider for DiscoverSouthCarolina.com
Visit the Upcountry
If you decide to visit the Upcountry, check out the UpcountrySC website where you will find many options for places to stay, dine, shop, and explore.
Contact us to plan your visit or subscribe to our informative newsletter.