The State Parks located in the Upcountry of South Carolina are ideal for viewing fall foliage, especially those located on the Cherokee Foothills Scenic Byway.
We thought we'd compile a list of best places to view the changing leaves, some traditional and some you might not think of, to help you plan your fall state park vacation most anywhere in the state.
Caesars Head Overlook, Caesars Head State Park The overlook at Caesars Head State Park has long been known as one of the best locations for viewing fall color in South Carolina. The view is stunning as you stand atop the outcropping and gaze at the Blue Ridge escarpment and Piedmont draped in a canopy of red, gold and yellow, with the mountains of North Carolina and Georgia as a backdrop.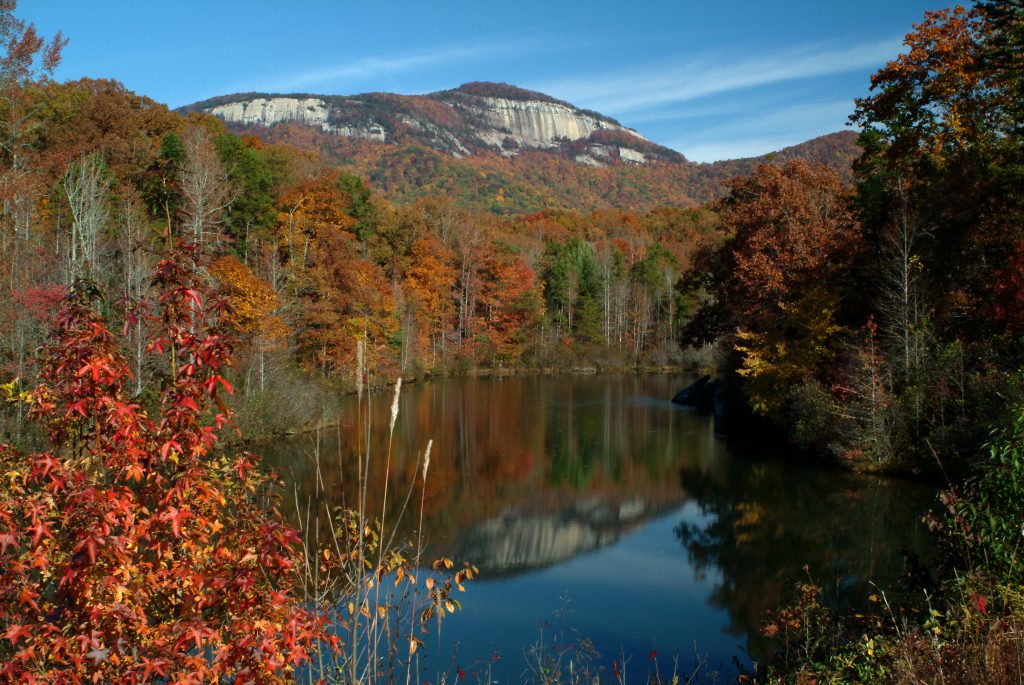 Other popular landmarks, resplendent in fall color, are Table Rock, the Table Rock Reservoir, Matthews Creek Valley, and to the southeast, the city of Greenville.
Hike to Raven Cliff Falls, Caesars Head State Park For a really spectacular scene, take a moderately difficult hike through the forests of Caesars Head State Park to the observation platform at Raven Cliff Falls. This beautiful 400-foot cascade set against the backdrop of a forest blanketed in fall color appears as a painting, eternally suspended in time. The more adventurous can cross a suspension bridge and view the falls from above. Whichever you choose, the views from both vantage points are well worth the hike.
Jones Gap State Park A different yet awesome perspective for viewing nature's unrobing is Jones Gap State Park north of Greenville. Located in a valley with the Middle Saluda River running through it, the Blue Ridge appears as a wall of color stretching up to the sky. Numerous hiking trails and trailside camping allow you to immerse yourself in nature's beauty.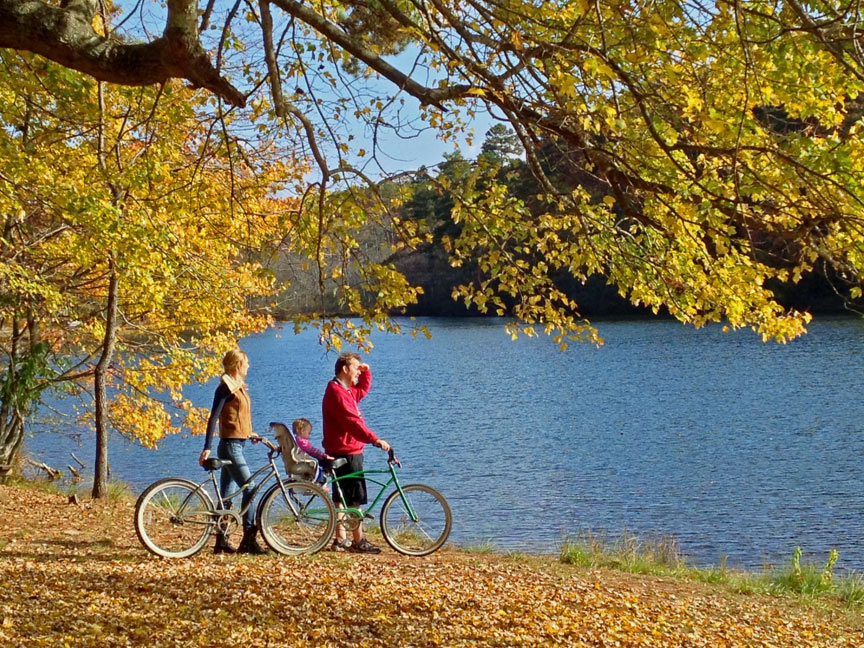 Kings Mountain State Park Near Blacksburg, SC, Kings Mountain State Park offers a number of venues for viewing fall color. Trails of all types – from hiking and nature to equestrian – traverse the parks rolling hills where hardwoods offers autumn's colorful showcase close up. The park's Living History Farm also is a visual masterpiece when draped in fall color. Visit the park for a day or reserve one of the many campsites for an overnight stay.
Of course there are many, many more vantage points and parks in South Carolina that provide awesome vistas of fall color. We hope you find yourself in a state park this autumn.
Read more: Finding Fall Foliage in Upcountry South Carolina.