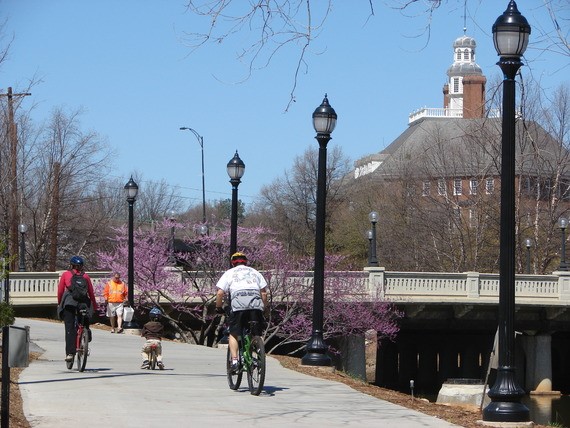 Cycling Gorgeous Greenville, SC
Photo Credit: Libby McMillan
Greenville, South Carolina has long been on the radar of elite competitive cyclists, as the host location for many years of the annual USA Cycling Professional Road and Time Trial National Championships.  Although 2012 was the last year for the event to be held in this Upstate city for a while, competitive cyclists still come to Greenville to train.   Recreational cyclists also enjoy the city, however, with its shaded, hilly terrain, moderate temperatures and bike trails.
Greenville turned a 14-mile railroad bed into the popular Swamp Rabbit trail which runs from south Greenville through the heart of the city, out to Furman University, and beyond, to the Blue Ridge mountain gateway village of Travelers Rest.  In the city, the Swamp Rabbit Trail winds through the city's 122-acre Cleveland Park and past its number one attraction:  Falls Park, the waterfalls in the heart of downtown.
Appearing flat but steadily climbing as it stretched northward, the Swamp Rabbit takes cyclists past new hot spots like the city's multi-million-dollar Kroc Recreational Facility and The Swamp Rabbit Cafe.  The Swamp Rabbit Trail is used by cyclists of all levels.On the north edge of the city, cyclists can detour from the Swamp Rabbit, or just load a bike on their car and head for Paris Mountain.  Here, the hearty can tackle a 2.2 mile ascent (maximum gradient 15%) where they'll be rewarded at the top with excellent city views from atop this unique state park.
Throughout Greenville, bike racks are easy to find, and downtown offers many outdoor activities (farmers markets, concerts, al fresco dining) which entice cyclists to ride in rather than drive.  The city is also rife with outfitters and bike shops.
Bike Rental shops are popping up all over.  Downtown hotel guests can walk to Reedy Rides and TTR is right on the trail.   The popular Bike the Rabbit will deliver a bike right to you, and pick it up as well.
In late 2012, La Bastide, a beautiful inn and vineyard near Greenville was purchased by Lance Armstrong's former riding partner George Hincapie, a longtime Greenville resident.  The president of Greenville-based Hincapie Apparel is diversifying, and plans to offer recreational and competitive cyclists a world-class resort from which to ride.  The French chateau-style resort is a real feather in Greenville's hat and further proof that this South Carolina haven is a fantastic destination for bicycle fans.
By Libby McMillan, a recreational cyclist who chose Greenville for its focus on outdoor living. She lives on the Swamp Rabbit Trail.  Read more about Libby McMillan here.
Originally published Thursday, January 31st, 2013 by 10Best.