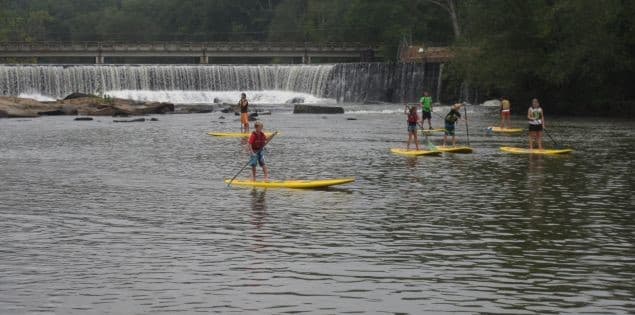 5 Fun Ways to Enjoy the Outdoors in Spartanburg
Tucked among the foothills of the Blue Ridge Mountains, Spartanburg, South Carolina has no shortage of opportunities to get outdoors for a little fun time. You won't have to travel far from its historic downtown to paddle a river, hike through the woods, bike on a rail trail or take a leisurely walk in a beautiful urban garden. It's no wonder the "Hub City" has been described as one big playground.
Here are five great ways to enjoy the outdoors in Spartanburg: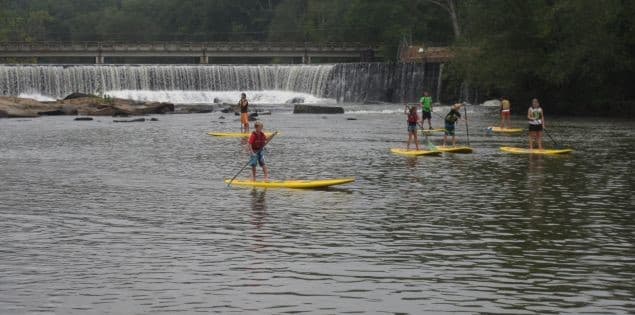 Paddle the Pacolet River and Lawson's Fork Creek Blueway.
This 50-mile scenic stretch of river features a section of Class I and II rapids, along with plenty of slow-moving water for those who prefer an easy float trip. The best place to launch is at Clifton Park and Beach located just below the Clifton Mill No. 2 dam. Its sandy shoreline is popular with both kayakers and stand-up paddleboarders.
Visit Croft State Park.
The park's 7,000 acres of rolling, wooded terrain feature 35 miles of trails for hiking, mountain biking and horseback riding. The two-mile Nature Trail loop takes you to the picturesque rocky shoals of Fairforest Creek where you can wade in the water or enjoy a picnic lunch.
Venture along the Mary Black Foundation Rail Trail.
Once part of the old Norfolk Southern railroad line, this 1.9-mile urban multiuse rail trail passes restaurants, shops and recreational facilities, such as the Pine Street YMCA and Hot Spot Skate Park, on its way to downtown Spartanburg. Bike rentals are available from the B-cycle bike share station at the trailhead on Union and East Henry streets.
Stroll through Hatcher Garden.
Take a break from the city center and enjoy a leisurely stroll through 10 acres of beautifully maintained woodlands. Paved and natural paths allow visitors to explore a collection of specialty gardens featuring conifers, wildflowers, medicinal plants and hostas.
Explore the Glendale Shoals Preserve.
The centerpiece of the 13-acre park is Lawson's Fork Creek and the dam that sends water tumbling over the rocks scattered shore to shore. Rock outcroppings near the dam are so wide and flat; you can walk within a few feet of the waterfall. A shady walking trail runs along the north bank of the creek.
By Marie McAden, SC Insider for DiscoverSouthCarolina.com