By Lynn & Cele Seldon
Any time is a great time to visit South Carolina's diverse state parks, but we've found that fall provides a perfect period to choose one or more state parks for finding colorful fall foliage. The beauty of leaf peeping in South Carolina's state parks is that there are so many from which to choose.
There are currently 47 unique parks in the South Carolina State Parks system-and more than a dozen of them provide breathtaking leaf peeping possibilities. It's just a matter of choosing one or many parks and then hitting the road for several nights (thanks to many in-park accommodations options in cabins, villas, and campgrounds). Plus, fall colors along the way mean a leaf peeping adventure starts before you even get to the park's entrance.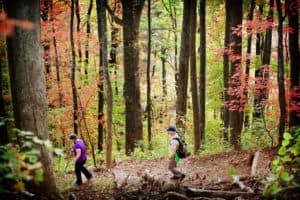 The Cherokee Foothills Scenic Highway
Of course, South Carolina's fabled Upstate region and its rolling foothills and mountains make for classic fall foliage exploration. One insider tip that we always provide to friends in search of South Carolina's fall colors is to head straight to the appropriately-named Cherokee Foothills Scenic Highway (SC 11), where more than a half-dozen colorful state parks are all within easy reach.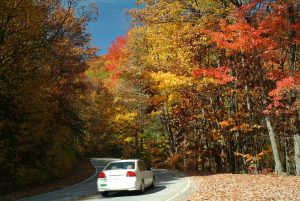 Generally following the route of an old Cherokee Native American footpath, Highway 11 runs east and then south about 110 miles along a two-lane road that leads to many state parks, as well as other sightseeing opportunities. It starts (or ends) in Gaffney in the east and ends (or starts) near quaint Fair Play and sprawling Lake Hartwell.
Heading out of Gaffney proper and roughly paralleling the nearby North Carolina state line, leaf peeping and sightseeing begins promptly at the first twisting bends in the road. The first state park stop is Jones Gap State Park, which is about 60 miles from Gaffney, so there's plenty of time for colorful pull-offs and appropriate sightseeing stops along the way.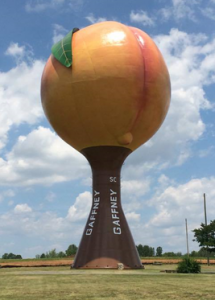 Just outside of Gaffney just west of where SC 11 crosses over I-85, the route's colorful and scenic sightseeing begins at the unique "Peachoid." Towering at 135 feet, the Peachoid is actually a water tower for the town of Gaffney that's been realistically painted to look like a giant peach perched high in the sky. The color of the peach is remarkably like the palette changes of oaks, hickories, maples, and more during their varied stages of fall colors.
Continuing on SC 11, possible well-signed stops before Jones Gap State Park include: Cowpens National Battlefield, a fascinating Revolutionary War site; Campbell's Covered Bridge (the only remaining covered bridge in the state); Poinsett Bridge, a historic stone Gothic arch bridge built in 1820 and believed to be the state's oldest surviving bridge; historic Blythe-Goodwin-Hagood House (also known as the John H. Goodwin House); and Raven Cliff Falls, which is one of many dramatic waterfalls accessible along SC 11 that provide postcard-perfect backdrops for fall colors photography.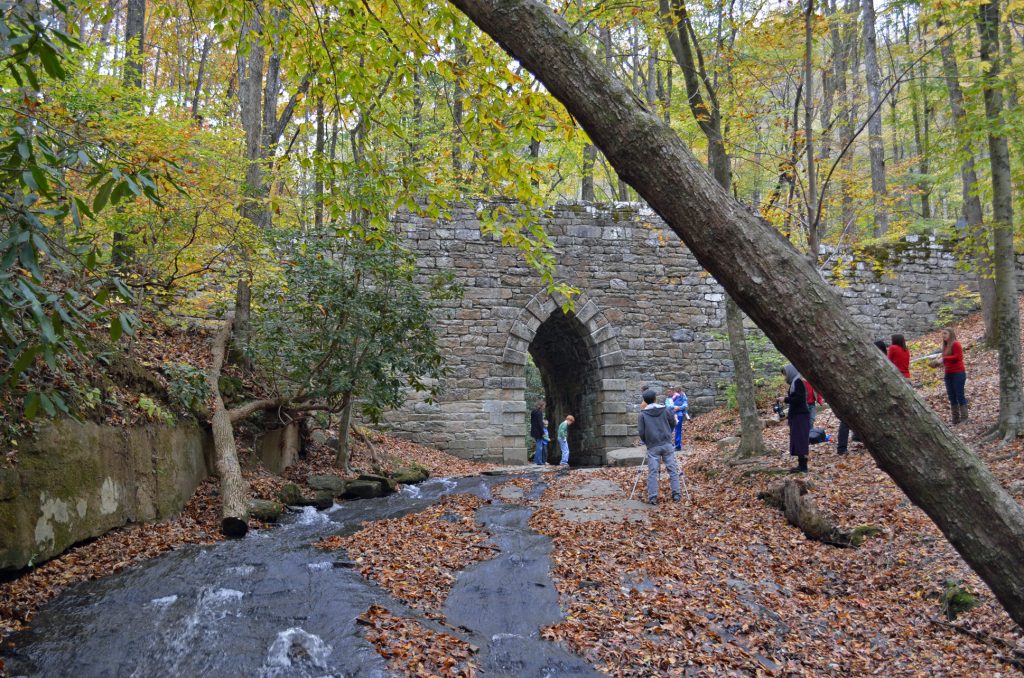 Jones Gap State Park proper also features its own waterfalls, along with dense forests seemingly bursting with fall foliage vistas. Lots of trails (including the pretty 77-mile Foothills Trail) and woodlands combine and connect Jones Gap with Caesars Head State Park to the west to comprise the sprawling Mountain Bridge Wilderness Area. There are also several waterfalls, like Jones Gap Falls and Falls Creek Falls, a trout-stocked pond built by the Civilian Conservation Corps (CCC) back in the 1930s, and a meandering section of the tree-lined Middle Saluda River, South Carolina's first designated scenic river.
Just a pretty half-hour drive west (and much shorter as the crow-or hawk-flies) unique Caesars Head State Park takes its name from the 2,266-foot granite gneiss outcropping in the park (that's a form of metamorphosed granite for us non-geologists). The park's Hawk Watch program each fall is very popular and features dramatic views of the park and neighboring North Carolina and Georgia. The moderate 3.7-mile Raven Cliff Falls Trail has equally dramatic views, including 420-foot Raven Cliff Falls in its fall glory.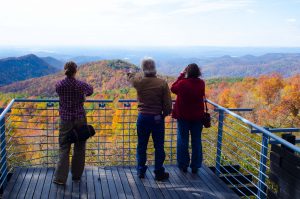 Table Rock State Park, about 15 miles southwest of Caesars Head, is next. The park's rocky namesake mountain provides the backdrop for beautiful fall colors from below, but there are also miles of hiking trails-including the Pinnacle Mountain Trail that provides another access point to the aforementioned Foothills Trail and lots of leaf peeping possibilities. Table Rock features varied cabins that were also built by the CCC and remain a great base for extended fall colors enjoyment if booked well enough in advance of peak viewing season (state park cabins and camping sites can be booked 13 months in advance).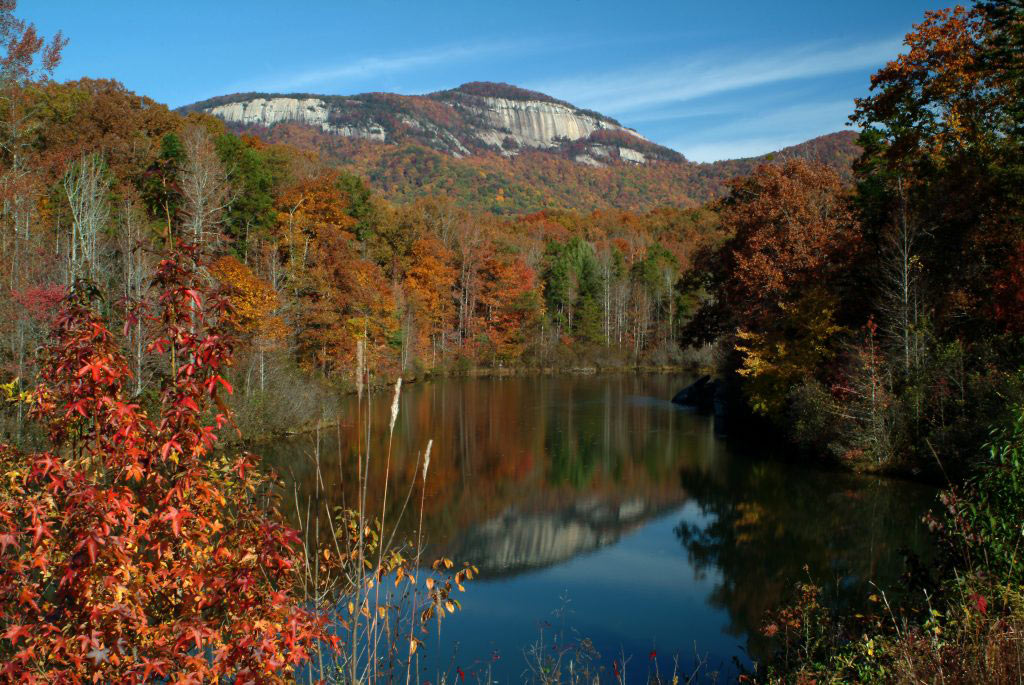 Located less than 15 miles straight down SC 11, Keowee-Toxaway State Park is the gateway to the pretty Jocassee Gorges and features lots of colorful hiking trails and fall colors reflecting off Lake Keowee. There's also one large three-bedroom rental cabin that overlooks the lake and has a private dock, all of which makes it a very popular overnight option any time of year.
Devils Fork State Park is less than four miles from SC 11 and it's well worth the short diversion for a diverse range of possibilities. It sits right on crystal-clear Lake Jocassee and the park provides the only public access). Waterfalls like Laurel Fork Falls and Wrights Creek Falls, which are best reached and viewed by boat and boat tours, are among the park's many highlights. So are varied hiking trails and a total of 20 different rental villas, most of which are on the lake's shoreline.
The final state park on the SC 11 drive is Oconee State Park and it's just another 30 miles from Devils Fork-and only 30 or so miles from the end (or start) of the Cherokee Foothills Scenic Byway. The park features several CCC-built structures, including many cabins, as well as six wooded nature trails and the western trailhead of the Foothills Trail. Nearby Oconee Station State Historic Site is also well worth a visit, in that the one-time blockhouse outpost of the South Carolina State Militia provides insight into an earlier period in state history-while a 1.5-mile nature trail leads to Station Cove Falls and the four-mile Oconee Connector Trail links the historic site to the state park.
Going Further Afield for Fall Foliage
Of course, other state parks throughout the state feature leaf peeping opportunities from the Upstate, through the Midlands. Some of the best state park possibilities include Kings Mountain State Park and Paris Mountain State Park in the Upstate, hilly Poinsett and lakeside Chester State Park, where the changing colors of the marsh grass and more mean even South Carolina's fall foliage destination-including many more overnight possibilities to extend the colorful trip.
This article originally appeared on DiscoverSouthCarolina.com here.
---
Read more: Finding Fall Foliage in Upcountry South Carolina.