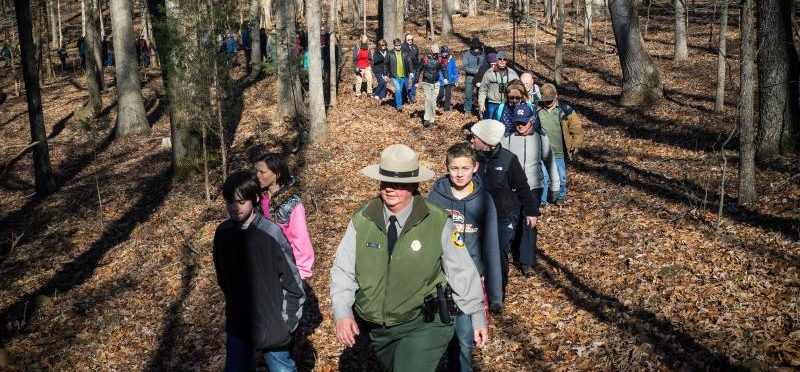 First Day Hikes
Kick-off the new year with a First Day Hike!
Many state parks are offering hikes. Visit the South Carolina State Park's Programs and Events webpage and filter for 01/01/2023 to 01/01/2023 to find one that interest you.
One of our favorites takes place at Musgrove Mill because it is three hikes on three different trails!
Battle of Musgrove Mill State Historic Site will be bringing in the New Year by offering three different First Day Hikes throughout the day of January 1. The first hike of the day will be from 9:00am-11:15 pm along our 1.5-mile Battlefield Trail. This will be an approximately two-hour Ranger Guided Hike where the participants will learn about the Revolutionary War in the South Carolina Backcountry and the history of the August 19, 1780 Battle of Musgrove Mill. Please meet at the Visitor Center at 8:45am and we will then drive over to the trail head.
The second hike will be from 1:00pm-1:30pm along our Horseshoe Falls ADA Accessible Trail. This ½ hour Ranger Guided Hike is designed for people of all disabilities. Wheelchairs, walkers, and strollers are encouraged on this ¼ mile hike, which is exclusively along our paved ADA accessible trail to the overlook of Horseshoe Falls where participants will learn about the legend of Horseshoe Falls and the nature that thrives all around it. Please meet at the Horseshoe Falls parking lot by 1:00pm.
The final hike of the day will be along our 1-mile British Encampment Trail from 2:00pm-3:00pm. This will be a kid focused Ranger Guided Hike where the kids will learn about the history of Battle of Musgrove Mill, nature, and trail safety. Following the hike, there will be an opportunity for kids to learn how to cook doughboys over an open fire just like Revolutionary War militiamen. This hike is designed for ages 7 and older but, all ages of kids are welcome. Please meet at the Visitor Center by 2:00pm.   
There is no charge for any of the hikes, but we ask that you register for the hike or hikes that interests you the most by 4 pm December 29 by emailing the park at mgmillsp@scprt.com or calling at 864-938-0100.
No pets allowed on any of the hikes. Please bring bottled water, and wear appropriate shoes and clothing for hiking and the weather.
For more information, contact the park at (864) 938-0100 or e-mail us at mgmillsp@scprt.com. www.SouthCarolinaParks.com.