Ice skating? In the Upcountry? There sure is!
There are fun and family-friendly ice rinks that are built during the holiday season (as you know, it's not very cold here). Some open in November and run into January with each offering a variety of options for you, your friends, and your family.
Ice on Main – Greenville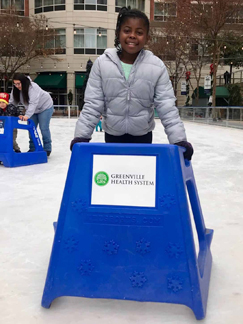 Located in the heart of downtown Greenville, United Community Bank's Ice on Main is an open-air ice skating rink. Monitor up-to-the-minute information about weather and rink hours on their website or you can follow the excitement on the Ice on Main Facebook page.
Ice on Main has become a holiday favorite for downtown Greenville residents and visitors. Get more information about:
Holiday Ice – Anderson
Experience Holiday Ice at Carolina Wren Park in Anderson. This synthetic ice rink will be open to the public from December 1st to December 31st. Hours and other details can be found on their website. You can also keep up to date with this special Holiday event by checking out the Holiday Ice Facebook page.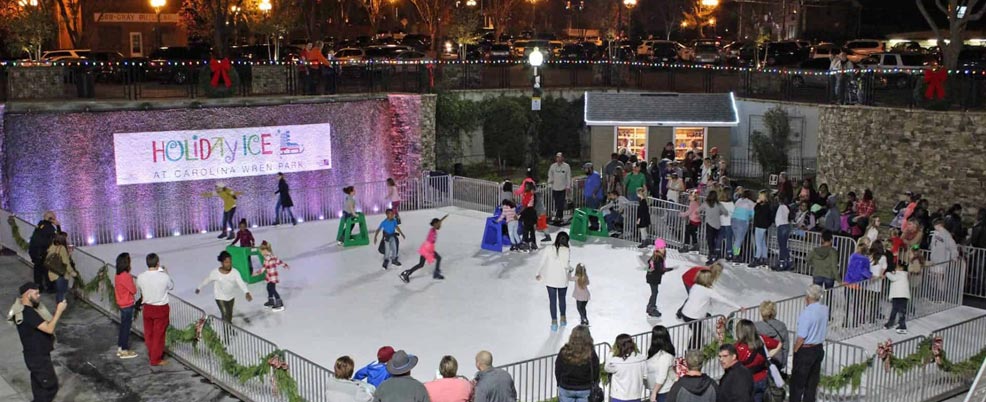 Bring your whole family and enjoy any or all of these delightful ice skating venues. You'll find plenty of help for beginners (skating experience not required) or for those who haven't been on the ice in a while. When you are not skating, you can enjoy hot seasonal drinks and fun entertainment while taking in all of the holiday fun and excitement. 
If you enjoy ice skating and building holiday traditions, be sure to take advantage of one of these downtown locations, including Greenville and Anderson.
Celebrate the holiday season right here in the Upcountry with one of America's favorite winter traditions – ice skating!
Want More Adventures?
Check out our lists of Events in the Upcountry.
If you are considering a visit to the Upcountry, visit the UpcountrySC website to find many options for places to stay, dine, shop, and explore.
Contact us when you're ready to plan your visit or subscribe to our informative newsletter.