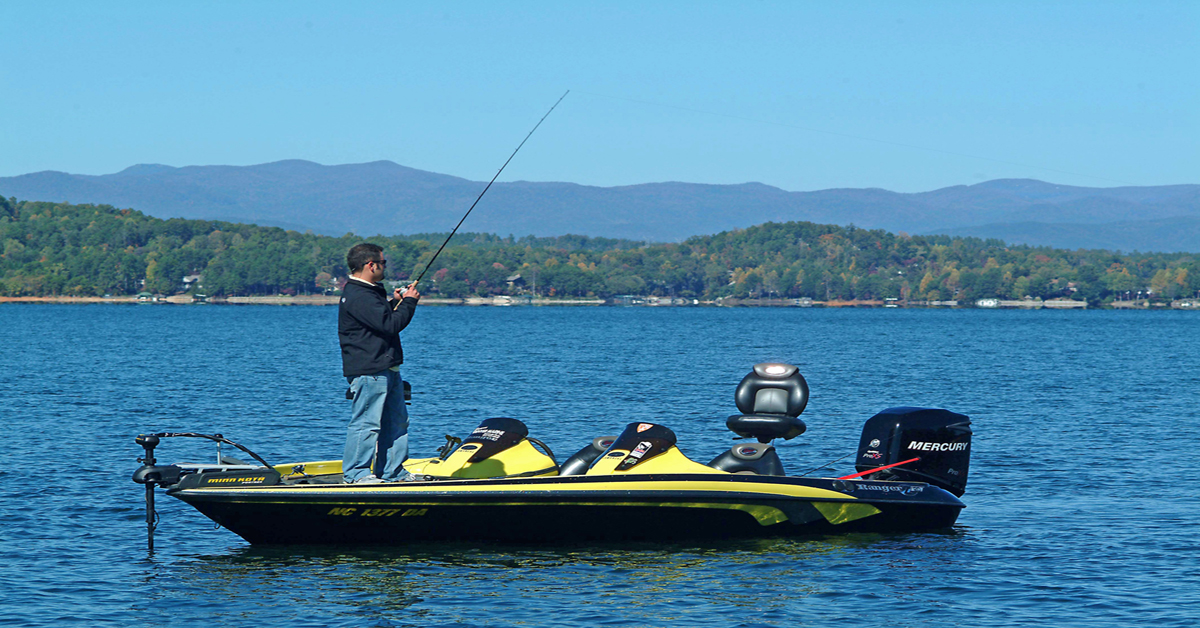 Fishing Our Lakes, Rivers, and Streams
Are you ready to do some fishing? We have that covered in an exceptionally large way!
Whether you're seeking simple family fun catching bluegills from the shore of a small lake, a serious day of bass fishing on a big reservoir, or a backcountry trek into a rugged river gorge for mountain trout, fine fishing destinations await in the Upcountry. Dozens of lakes and streams of all sizes offer opportunities to fish for three trout species, four black bass species, four catfish species, three true bass species, walleyes, assorted panfish, and more.
Upcountry Fishing Options
The Sumter National Forest, more than a dozen South Carolina state parks, Corps of Engineers and Duke Energy recreation areas, county and city parks, and lands owned or leased by the South Carolina Department of Natural Resources collectively provide ultra-plentiful access to waters of all sizes. Some Upcountry waters are well known, even nationally acclaimed. Others are little known, except by local anglers. Some are surrounded by gentle Piedmont slopes. Others are tucked deep in the mountains.
Lake Hartwell
The first of three major impoundments of the Savannah River, Lake Hartwell spreads over 56,000 acres. Lake Hartwell straddles the Georgia/South Carolina border. Still, a reciprocal licensing agreement allows you to fish anywhere on the lake, by boat, or from the shore, if properly licensed by either state. Lake Hartwell is fed by multiple rivers and many large creeks, and countless coves create a complex shoreline and outstanding fish habitat.
The biggest lake in the Upcountry, Lake Hartwell, also offers the region's best opportunity to target extra big fish because striped bass, striped bass/white bass hybrids, and flathead catfish all call this lake home and sometimes grow large in its expansive waters. Stripers and hybrids are stocked annually by the SCDNR and the Georgia Wildlife Resources Division. 
Lake Hartwell has earned national acclaim for its bass fishing and has hosted many major regional and national tournaments, including the Bassmaster Classic, often dubbed the Super Bowl of Bass Fishing, in 2008, 2015, and 2018. The Bassmaster Classic will return to Lake Hartwell's storied waters in March 2022. Hartwell offers a good mix of largemouth and spotted bass, with the spots being most plentiful in the clearer and deeper lower main body. In addition, the variety of water conditions and water types found at Hartwell adds appeal for bass anglers. Other popular species to fish for on Lake Hartwell include crappie, bluegill, and channel catfish.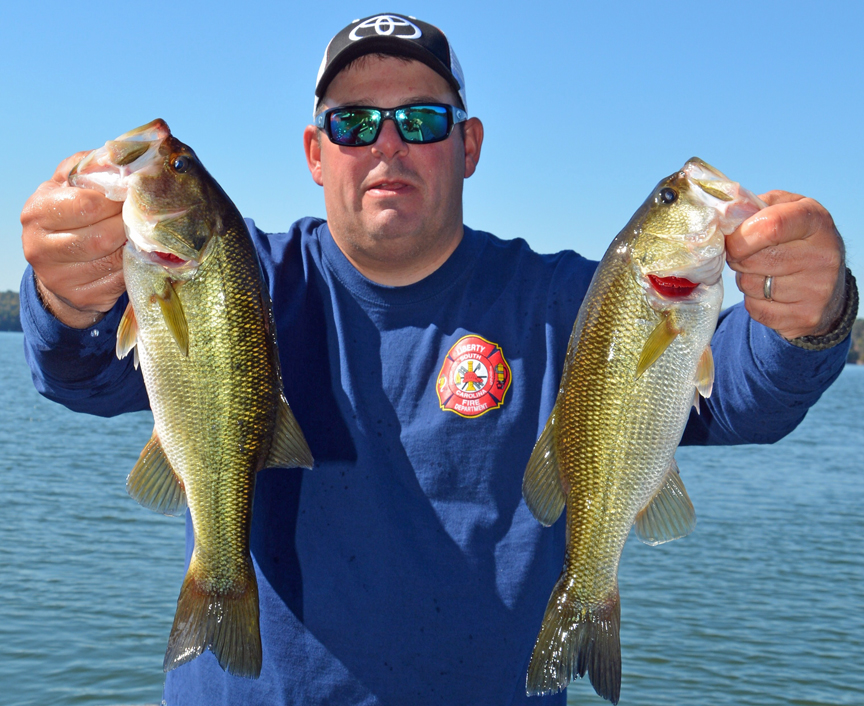 Another virtue of Lake Hartwell as a fishing destination is the abundant and easy access. More than 75 access areas, including state parks, county parks, Corps of Engineers recreation areas, and private marinas, provide good access to all parts of the lake, including ramps for boating access and plenty of places to fish from the shore. 
Fishski Business, Buster Green's Guide Service (864-277-2463), and Lake Hartwell Fishing Charters offer guided fishing on Lake Hartwell.
Lake Jocassee
Famous for its waterfalls, mountainous shoreline, and ultra-clear water, Lake Jocassee also offers outstanding and diverse fishing opportunities. Despite being among the smallest of South Carolina's "major reservoirs" at 7,980 acres, Lake Jocassee has produced more state-record freshwater fish than any other lake or river in the Palmetto State. The state record spotted bass, smallmouth bass, redeye bass, rainbow trout, and brown trout all came from the crystalline waters of Lake Jocassee.
Lake Jocassee is unique among South Carolina lakes in the fact that it supports an outstanding population of trout, so it's little surprise that Jocassee is best known among anglers for its trout. Rainbow and brown trout both get hefty in Lake Jocassee and provide unique year-round opportunities. Deep-water trolling and night fishing with live bait are popular approaches for trout on Lake Jocassee.
Jocassee also is a high-quality bass lake and distinctive in the fact that it offers opportunities to catch all four of South Carolina's major black bass species (largemouth, smallmouth, spotted, redeye), and all with legitimate big fish potential. Bluegills and other sunfish provide steady action close to Jocassee's steep banks, especially in pockets of the creek and river arms, during the warm months.
Jocassee can be challenging. Its nearly vertical shores and deep, clear water can make it a puzzle. However, anglers who figure out their secrets enjoy consistent success, and any angler might be rewarded on any given day. A former state record smallmouth bass was caught by a young girl fishing off the dock at Devils Fork State Park. Access to Lake Jocassee for boating or bank fishing is through the state park.
Jocassee Fishing Adventures, Jocassee Charters, Blue Ridge Guide Service, Fishski Business, and Jocassee Outdoor Center provide guided fishing on Lake Jocassee.
Lake Keowee
Immediately downstream of Lake Jocassee, the Keowee River and Little River are impounded by two dams to form 18,500-acre Lake Keowee, which has deep clear water but is substantially less extreme in-depth and clarity than Jocassee and is less shrouded by mountains.
A unique two-dam configuration, cooling operations for the Oconee Nuclear Station, and a lakeshore lined with large houses and boat docks distinguish Lake Keowee from most other lakes. The "hotspot" created by the power plant outflow is an outstanding fishing spot for multiple species during winter, with baitfish and gamefish alike drawn to the warm water. In fact, the fishing can be sufficiently good that the outflow area is off-limits in many bass fishing tournaments.
Keowee is a highly popular bass lake and offers good fishing. The spotted bass is easily the most abundant black bass, and the spots get fat on plentiful blueback herring. Keowee also supports a solid largemouth population and produces an occasional smallmouth bass, usually well up the Keowee River. Keowee is especially well known among bass fishermen as an excellent topwater lake.
Beyond bass, Lake Keowee supports popular fisheries for crappie and bluegill and supports a good population of channel catfish.
Public access to Lake Keowee is limited to a handful of Duke Energy Access Areas, but those areas are well distributed and large enough that together they provide decent boating access to all parts of the lake and good opportunities for bank fishing. Additional access can be found through the following county parks: South Cove, Mile Creek, and High Falls. 
Jocassee Outdoor Center offers guided fishing and other angler services for Lake Keowee.
Lake Tugalo or Tugaloo
Fed by the Chattooga National Wild & Scenic River and Georgia's Tallulah River at the mouth of Tallulah Gorge, 600-acre Lake Tugalo is steep-sided, undeveloped, remote, and beautiful. Wooded mountainous shores and extremely limited access make Tugalo almost exclusively a boat-fishing destination. That said, the same remoteness and a 25-horsepower motor limit make Tugalo an extra good destination for fishing from a canoe, kayak, or other small boats.
Up the Chattooga arm, Lake Tugalo snakes between mountain slopes. Up the Tallulah arm, cliffs bound both sides. Several creeks enter the lake via waterfalls in the backs of steep coves.
Tugalo offers good and diverse fishing opportunities. Plentiful bass uses countless downed trees and serves up good action from spring through fall. Several panfish species, including bluegill, yellow perch, and longear sunfish, create even better opportunities for fast fish catching. Tugalo also offers one of the best walleye fisheries in South Carolina. 
As on Hartwell, licensing is reciprocal, so a valid Georgia or South Carolina fishing license covers the entire lake.
Lake Robinson & Lake Cunningham
The Greer Commission of Public Works operates two lakes – lakes Robinson and Cunningham – that together offer approximately 1,000 acres of fishable waters in a beautiful setting and that are open to public use. Boating and fishing permits are required, but they are moderate in cost. 
Lake Cunningham covers 800 acres and impounds the South Tyger River. It has a boat ramp and three fishing piers. Lake Robinson is smaller at 200 acres but is similarly scenic and offers additional fishing opportunities.
Spartanburg Area Lakes
Lakes Blalock, Bowen, Cooley, and Lyman are relatively small municipal reservoirs that offer some public access for fishing. A purchased boating permit is required to operate a boat on any of these lakes, but all have a pier and/or public shoreline access for fishing. 
Lake Bowen is the largest of these lakes at 1,534 acres and impounds the Pacolet River. Lake Blalock, which also impounds the Pacolet River, covers 1,105 acres. Lake Cooley spreads over 330 acres and impounds Jordan Creek, a North Tyger River tributary. Lake Lyman covers 350 acres and impounds the Middle Tyger River. Learn more about Access & Boating Permit Information.
Upcountry State Park Lakes
Four Upcountry State Parks — Oconee, Table Rock, Paris Mountain, and Croft– have relatively small lakes within park boundaries that provide good places to fish from the bank or a fishing pier or small watercraft. Because they are within state parks, these lakes are all near campgrounds and are convenient to other family recreation, making them extra good destinations for family fishing vacations.
Oconee State Park has two lakes, which cover 20 and 12 acres. Private canoes and kayaks are permitted on the larger lake, which is in the park's main day-use area and has cabins on its shore. Non-motorized fishing boats and canoes can also be rented. Bank access is possible from several areas. A pier provides access to the smaller campground lake. Bass, bluegill, and catfish are the main attractions throughout the year, but the large lake also gets stocked with trout during winter.
Table Rock State Park also has two lakes – 36-acre Pinnacle Lake and 67-acre Lake Oolenoy. Both offer opportunities to catch bass, bluegill, and catfish and can be fished from the bank or by boat. Boating opportunities differ, though. Only the park's rental boats are permitted on Pinnacle Lake. Private boats (electric motor or human-powered only) are permitted on Lake Oolenoy, which affords fabulous views of Table Rock Mountain. Two piers provide additional access to Lake Oolenoy.
Two lakes within Paris Mountain State Park, 8-acre Lake Placid and 15-acre Reservoir #3, are open to fishing. Rental boats are available. Reservoir #3 is more remote, and accessing its waters requires a 2-mile hike.
Croft State Park, near Spartanburg, includes a 165-acre lake that can be fished from the shore, from private boats with no gas motors, or rented fishing boats or kayaks. Lake Tom Moore Craig has mostly wooded banks, but the area near the boat ramp is accessible on foot with reasonable casting room, and a fishing pier provides additional access. Bass, bluegills, and catfish are the main attractions at this lake.
State-Managed Fishing Lakes
The SCDNR manages several small lakes specifically to provide public fishing opportunities, and three of these outstanding lakes are located in the Upcountry. 
High-quality fisheries and easy public access are high management priorities for all the lakes in this program. Fisheries managers use gamefish and baitfish stockings, fertilization, special regulations, and various other techniques to maximize each lake's fishing potential. These lakes also offer cleared and regularly mowed shoreline sections for easy bank access and excellent facilities, such as boat ramps, fishing piers, and convenient parking.
No gas motors are permitted on boats in any of the Upcountry's State Fishing Lakes, making all three excellent destinations for fishing from canoes, kayaks, or johnboats powered by electric motors. 
Lake Edwin Johnson in Spartanburg County covers 40 acres and is located near Croft State Park. Lakes Cherokee, 40 acres, and Thicketty, 200 acres, are both located in Cherokee County. Thicketty offers extensive shoreline access. 
All three lakes get stocked with channel catfish, providing dependable catching opportunities, and offer good prospects for largemouth bass, bluegill, and shellcrackers.
Go Fish!
Go Fish, near Westminster, offers excellent catfish prospects with easy access and makes a fine family fishing destination. Go Fish is private and is structured on a fee basis, but no state fishing license is required. The owners keep the lakes well stocked with channel, bullhead, blue, and flathead catfish, including catfish up to 60 pounds! Therefore, it's a place to catch a limit of catfish to take home for dinner, but also a place to target a genuine trophy. 
Go Fish has three lakes. Two are managed primarily as catfishing lakes. The third is being developed as a carp fishing destination. They have bait, tackle and concessions on-site.
Chattooga River
The Chattooga National Wild & Scenic River is most famous for world-class whitewater rafting, canoeing, and kayaking, but this spectacular mountain river also offers excellent and diverse angling opportunities with extensive public access.
Access isn't always easy. Only three roads cross the 40-mile portion that forms the Georgia/South Carolina border, and no other roads come closer than a quarter-mile from the river because of Wild & Scenic River protection. Almost all land on both sides of the river is public, though, and extensive trails provide access to pretty much anywhere along the river if you don't mind logging miles on foot.
The upper half features trout, including wilderness fishing for wild brown trout in the far upper portion, easier success with regularly stocked fish in places, and remote walk-in fishing for trout that are helicopter stocked in a remote and rugged stretch between the Burrells Ford and Highway 28 bridges. 
Approximately three miles of river immediately upstream of Highway 28 are managed as delayed harvest waters. This section is heavily stocked from fall through spring and only catch-and-release fishing with single-hook artificial lures from Nov. 1 to May 15. General trout regulations apply for the remainder of the year.
The lower half of the river offers the opportunity to catch native Bartram's redeye bass, which doesn't grow very large but is feisty and fun to catch. The lower section also offers a mix of panfish species.
Anywhere from Ellicott Rock, where the river enters South Carolina, to Lake Tugalo, which marks the terminus of moving waters, the Chattooga alternates between rapids and deep green pools and offers a spectacular setting for any type of fishing.
The East Fork of the Chattooga River provides additional opportunities for pursuing wild brown trout through most of its run and for catching regularly stocked catchable-size trout near the Walhalla Fish Hatchery. The East Fork is mostly on public land, and a trail parallels the river from the hatchery to the East Fork's confluence with the main river.
The Chattooga River Fly Shop offers guided fishing and is a good source of information about the Chattooga and other Upcountry trout streams.
Chauga River
The Chauga River is a relatively small but highly scenic mountain river that provides excellent trout fishing and good variety. Easily accessed sections are regularly stocked during spring, early summer, and fall. Remote sections support some wild trout and get stocked annually by helicopter with sub-adult and catchable-size fish.
The section of the Chauga between Land Bridge Road and Riley Moore Shoals runs largely through the Sumter National Forest and offers public access. Forest Service roads provide places to get in the Chauga to wade or fish from the bank. Some Chauga River headwater tributaries support strong populations of wild trout. Some of these are on private land, so landowner permission is required to fish.
Like the Chattooga, the Chauga River offers one section of Delayed Harvest waters, which offers excellent fishing from fall through late spring for anglers who don't mind releasing fish and fishing with single-hook artificial lures but also offers good opportunities to catch fish to take home from mid-May through the end of October.
Saluda River Watershed
The North, Middle, and South Saluda rivers together provide a variety of trout fishing options, with the Middle Saluda offering the most public access and the best opportunity to chase mountain trout in a wilderness setting. 
The 5-mile stretch through the Mountain Bridge Wilderness to Jones Gap State Park falls dramatically and cuts a remote gorge, and supports a strong population of wild rainbow trout. It's relatively small and swift and can be challenging to wade and fish effectively but extremely rewarding. A portion of the Middle Saluda, immediately downstream of Jones Gap State Park, is open to catch and release fishing only and open to fishing on Mondays, Wednesdays, and Saturdays.
The North and South Saluda rivers are stocked with trout and provide good opportunities, but large portions course private land, so landowner permission is required for access. Where these streams become classified as navigable (North Saluda, from Callahan Mountain Road downstream; South Saluda, from SC Highway 8 downstream), wading fishing is permitted from legal access points.
More Trout Streams
Trout waters are scattered throughout the Upcountry and range from tiny, tumbling high-country branches that offer wilderness opportunities to target wild fish to valley streams that don't support wild populations but are regularly stocked to provide trout fishing opportunities.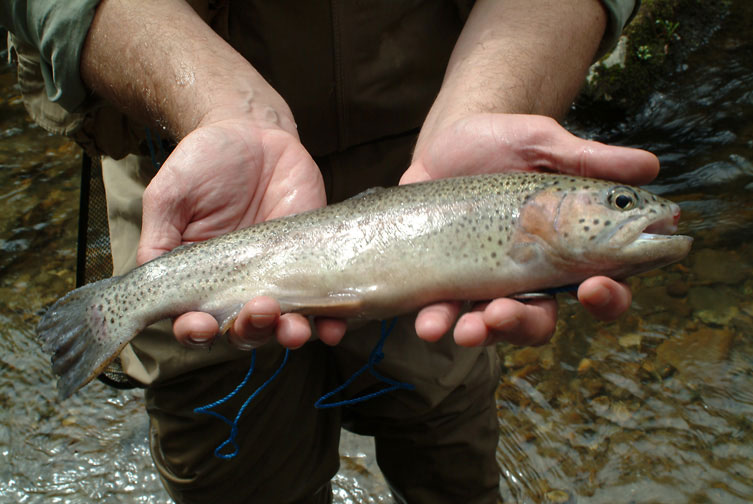 The Jocassee Gorges Wilderness contains rugged mountain streams, including the Thompson and Whitewater rivers, which can only be accessed by hiking in, with some sections realistically only suited for backpacking trips on the Foothills Trail. The Eastatoe is another beautiful hike-in trout stream that supports a strong population of wild trout. Two smaller Lake Jocassee tributaries are managed with delayed harvest regulations.
Upcountry Rivers
Downstream of where the water runs cold enough to support trout, a handful of Upcountry rivers provide additional opportunities to fish moving water for a variety of species. Scattered spots can be fished from the bank at points of public access. Others lend themselves to wading or float-fishing in a canoe, kayak, or johnboat. The Saluda (downstream of where its forks converge), Reedy, Enoree, Tyger, Pacolet, and Broad rivers fall into this category. Most support populations of bass, various sunfish, and catfish. Much of the land around these rivers are privately owned, and landowner permission is required for any private land access.
More Information about Upcountry Fishing
Upcountry Fishing Guides
Buster Green's Guide Service

,

864-277-2463