When the itch to get outside, enjoy some live music, and dance the night away strikes, these events below repeat for months and are FREE to enter (minus a few noted exceptions). Check out our roundup on music mania for the best free Spring and Summer concert series across the Upcountry.
Spartanburg County: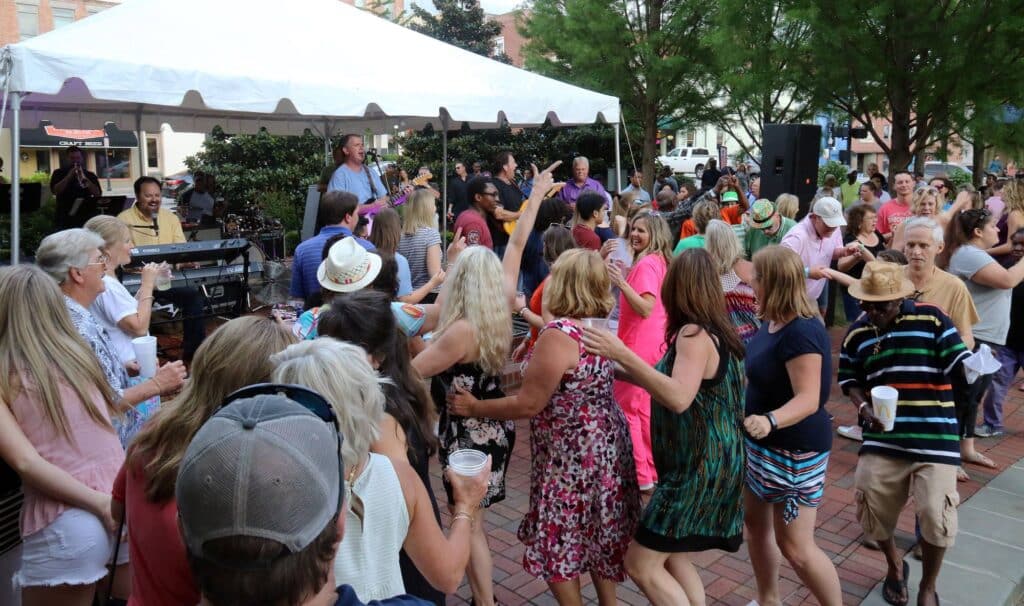 Music on Main – When: Thursdays, April to July, from 5:30 to 8:30 pm. Where: Morgan Square at 100 W Main Street, Downtown Spartanburg, SC. Friends from all over gather to listen to some of the hottest and hippest bands around! Get in for free, Bring cash & an ID, a blanket, or a chair. Not only does Music on Main provides entertainment for the local community, but it also serves as an excellent fundraising opportunity for Spartanburg's civic organizations. Since MOM's inception, over $250,000 has been donated to such groups, including the Knights of Columbus, Phi Beta Sigma Fraternity, Spartanburg Optimist Club, and more.
Dancing on the Square – When: Fridays from 5:30 pm to 8:00 pm, April and May. Where: Morgan Square at 100 W Main Street, Downtown Spartanburg, SC. Free 30 mins to 1 hour of dance instruction followed by a chance for attendees to show off their moves! From Salsa to Traditional West African, Swing and Shag, to Live Jazz music, there's something for everyone to groove to here!
Greenville County:
Downtown Alive – Greenville – When: Thursdays from March 16th – August 31, 2023, starting at 5:30 p.m. to 8:30 p.m. Where: NOMA Square, 220 N Main St, Greenville, SC 29601. Piedmont Natural Gas Downtown Alive, presented by Clemson MBA, kicks off the weekend every Thursday night with music! This event serves as the single largest fundraiser for the Metropolitan Arts Council. Bands play two sets at 5:50 p.m. and 7:20 p.m. on the Carolina Foothills Credit Union Stage. The proceeds from food and drink sales during this free concert series go towards helping the MAC create more arts programs, bring great talent to the area, create more exhibitions, etc.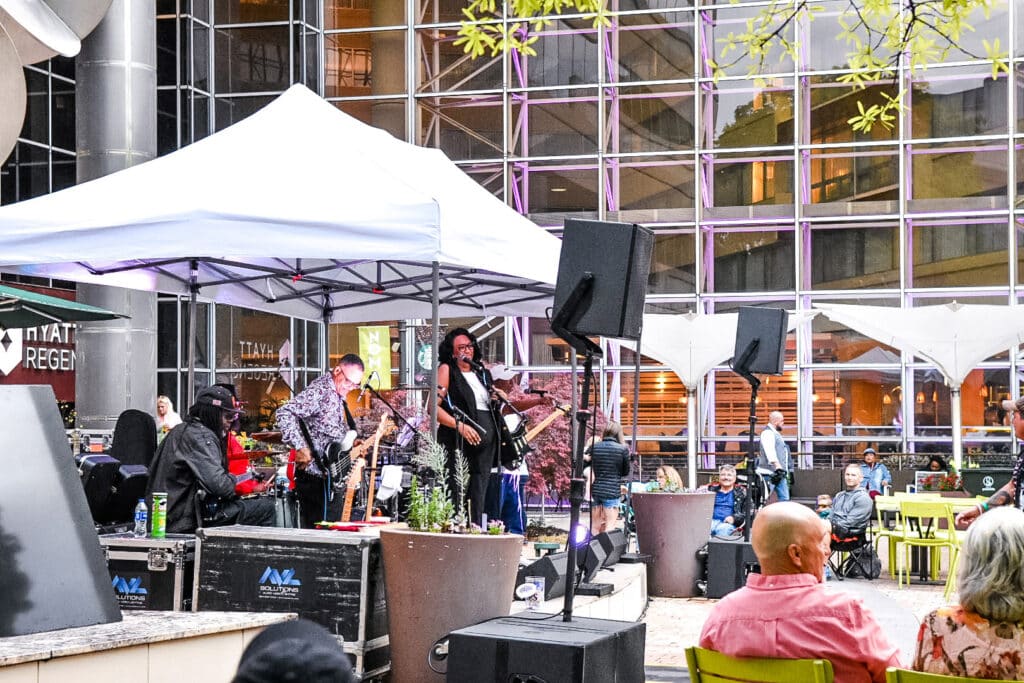 Main Street Fridays – Greenville – When: Fridays from March 17th – September 29th, 2023, starting at 5:30 p.m. to 9:30 p.m. Where: NOMA Square, 220 N Main St, Greenville, SC 29601. Wind up the work week at Greenville Heritage FCU Main Street Fridays presented by Pepsi, listening and dancing to the best in musical entertainment with free admission! Bands play two sets at 5:50 p.m. and 7:40 p.m. NOMA Square chairs go fast, so bring a tailgating chair if you are not arriving early. Food and drinks are available for purchase as well throughout the event.
Oconee County: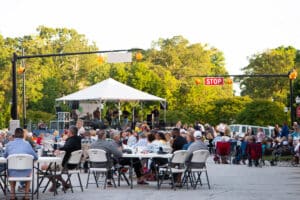 Jazz on the Alley-Seneca – When: Every Thursday, April through October from 7 pm – 9 pm. Where: Ram Cat Alley, Seneca, SC 29678. Featuring America's touring musicians, let the sweet sounds of jazz music move your feet! For more information visit www.senecascevents.com.
Music on the Mountain-Table Rock State Park – When: Held once a month from May until December, from 2 pm – 6 pm. Where: Table Rock Lodge, 233 Table Rock State Park Rd, Pickens, SC 29671. Enjoy traditional Blue Grass music as local musicians gather at Table Rock to keep this inspirational talent alive. Visitors are invited to bring their acoustic instruments and join in a jam session or simply sit back to enjoy the music with the lake and mountains as a beautiful backdrop. The price for the event is either free with a Park Passport Plus, or you're required to pay the park admission fee.
After Memorial Day:
Bluegrass Music and Square Dancing at Oconee State Park – When: Friday nights from Memorial Day through Labor Day. Where: Oconee State Park Visitors Center, Mountain Rest, SC 29664. Enjoy bluegrass and square dancing in the park! Admission to the park is $5/adult; $3.25/S.C. seniors; $3/child ages 6-15; ages 5 & under are free. Park admission is also free with a Park Passport Plus.
Plum Hollow – When: Memorial Day Weekend (Thursday, Friday, and Saturday). Where: 5015 Rainbow Lake Rd, Campobello, SC 29322. New Grass, Grunge Grass, Jazz Grass, Bluegrass Rock & Roll, are all part of Alternative Bluegrass. Their goal is to showcase this new form of music. The surrounding woods are always popular for camping, whether it be an RV or a tent, and everyone is encouraged to bring their instruments so they can join in the "all-night pickin'". Ticket price is per person and includes camping (a shower house is included but electrical hookups are not available), parking, and all concerts. Ticket prices for all ages may be purchased at the gate. If you need more details, feel free to call their number at (864)-357-0222.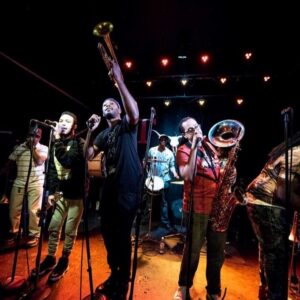 Greenville Jazz Fest: A new event this year! When: Saturday, June 3, 2023, from 4 pm – 10 pm (with plans to extend to a two-day festival in 2024). Where: Main Street, Greenville, SC (from Falls Park Drive to Broad Street). Celebrating community, culture, and jazz! This free event will feature two stages with performances from The Grammy Award-winning Rebirth Brass Band, Jonathan Scales Fourchestra, Iliana Rose Cuban Jazz Band, The Wheel All Stars, and The Tish Oney Jazz Orchestra featuring Greenville Jazz Collective's Big Band. Bites and brews from local food trucks and drink tents will be available throughout the festival. Partnerships with Greenville County Schools and The Greenville Jazz Collective will also highlight music education opportunities for local students.
From Jazz to Bluegrass, downtown to state park venues, there are music and events for all ages and tastes across the area. Check out our website here for more on the music of the Upcountry.
By Sarah A. Moore, Pimento & Prose Media
_______________________________________________________________________________
Are you looking for more adventures?
Contact us when you're ready to plan your visit or subscribe to our informative newsletter.