The Chattooga River is one of the most unforgettable whitewater rafting experiences in the Southeast. In fact, Southern Living called rafting the Chattooga "The #1 Thing Every Southerner Ought to Do." The Chattooga was federally protected in 1974 by the Wild & Scenic Rivers Act, forever preserving its rugged river gorge. Experience breathtaking scenery and treasured whitewater in an unmatched wilderness setting.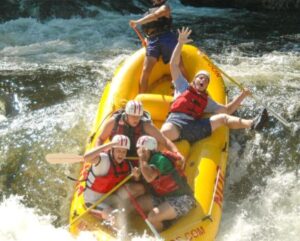 There are two very distinct whitewater rafting sections on the Chattooga; Section III is known as "Mild & Scenic", with numerous swimming holes, Class II-III rapids, and a Class IV grand finale at the famous Bull Sluice rapid. Section III is perfect for families and children eight-years-old and up.
Just downstream on Section IV, the Chattooga picks up the pace. The action begins with Seven Foot Falls and culminates with the infamous Five Falls, where five adrenaline-pumping Class IV rapids follow in quick succession.
Both Chattooga River trips are full-day trips and feature a scenic lunch along either a beautiful stretch of river or at the base of Long Creek Falls.
NOC has been leading trips on the Chattooga since our company's inception in 1972. In fact, their company founder Payson Kennedy was a stunt double in Deliverance, filmed on the Chattooga River. NOC's Chattooga guides are among the nation's most elite whitewater guides. They receive industry-leading training and are also equipped with the most modern river equipment.
If you're looking for whitewater rafting Near Georgia or South Carolina, The Chattooga River is the perfect choice.
__________________________________________________________________________________
Looking for more adventures?
Visit the UpcountrySC website to find many options for places to stay, dine, shop, and explore.
Contact us when you're ready to plan your visit or subscribe to our informative newsletter.