Strawberry Hill USA
With strawberry season in full swing, there is no better time to visit Strawberry Hill USA Farm on the national scenic byway, Highway 11, in Chesnee for some freshly-picked, juicy strawberries straight from the farm.
Strawberry Hill USA is a multigenerational family-owned and operated farm with a peachy beginning. The Cooley family began farming peaches in 1946. After years of losing peach crops to cold weather, James Cooley sought a way to put dinner on the table. So, in 1995, he took a giant leap of faith and cleared some peach trees to plant 6 acres of strawberries. The strawberries turned out to be a big success, and Strawberry Hill USA grew to become a popular Upstate destination. With 115 acres of strawberries, Strawberry Hill USA is the largest strawberry farm in South Carolina.
There are gallon-sized buckets of pre-picked strawberries available for purchase at The Shed at Cooley Farm. At The Shed, you can also find an incredible selection of fresh seasonal fruit and vegetables, hanging baskets, jams, and ciders.
Across the street from The Shed is the Café and Ice Cream Parlor. The Café serves up a southern-style breakfast, such as their homemade "cat head" gravy biscuit, buttermilk pancakes, and loaded hash browns. Or, you can enjoy a Pimento Cheese Bacon Cheeseburger, Hamburger Steak, or a Big E's Hot Dog special for lunch. Be sure to leave some room for ice cream from the Ice Cream Parlor on the opposite end of the shop.
The Ice Cream Parlor offers 18 Hershey's ice cream flavors and 12 homemade flavors that the Cooley family makes with their own fruit. You can grab a milkshake, a banana split, or a root beer float and enjoy outside on one of the many wooden rocking chairs that overlook the farm. They also have seasonal specialty desserts like Strawberry Shortcake to indulge with.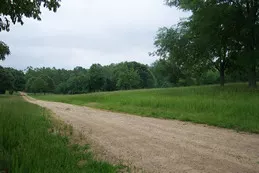 After spending a few hours on the farm, you can walk along Historic Green River Road at nearby Cowpens National Battlefield.
By Brooke Carman, The Pickens Foodie
Looking for more road side stands? How about pick-your-own-fields? The Peaches & Berries Guide covers what is in season, where to find it, how to store the produce and even some tried and true recipes.
Click here to view/download the PDF: Peaches and Berries Brochure