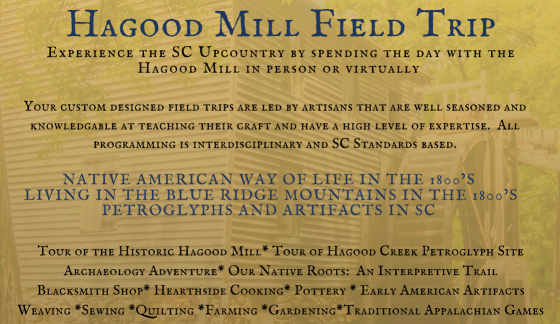 Virtual Field Trips at Hagood Mill
Hagood Mill has developed a series of Virtual Field Trips, with the first batch being available January 15, 2021.  They are designed for grades Pre-K to 8. They include the following subjects:
Native American Way of Life in the 1800's 

(Available January 15, 2021)

Living in the Blue Ridge Mountains in the 1800's 

(Available February 1, 2021)
Petroglyphs and Artifacts in SC (Available February 15, 2021)
Each Virtual Field Trip Kit will include a short video "Welcome to Hagood Mill Historic Site," a choice of one Tour Video, and a choice of one Demonstration/How-to Video. Each Demo/How-to video comes with an accompanying slideshow which includes a lesson plan with objectives, direct instruction,  guided practice/hands-on activity, assessment, and related SC standards.  Some also may contain a supply list, worksheets, a rubric for assessment, and extension/enrichment activities.
More info: https://www.hagoodmillhistoricsite.com/visiting#VIRTUALFIELDTRIPS