By Marie McAden
The rare Oconee Bell – the delicate bell-shaped wildflower found only in isolated locations in the southern Appalachians – is finally getting its due. A group of devoted fans is hosting their yearly celebration in its honor.
The Annual Oconee Bell Fest takes place at Devils Fork State Park – one of the few spots in the Jocassee Gorges featuring the kind of moist wooded environment necessary for the flower to thrive.
Upstate master naturalists will be leading small groups of visitors on educational tours through the park's Oconee Bell Nature Trail, an easy, one-mile loop boasting large colonies of the wildflower. The walks will be offered every 30 minutes. There will also be food trucks, kids activities, live music and more.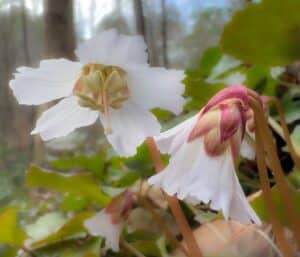 For just two to three weeks from mid-March to early April, the low-growing plant produces a white and yellow blossom with red stem and red-tinged serrated leaves. The Oconee Bell does best in the wild in moist woods along streams. At Devils Fork State Park, it can be found thriving in clumps along the creek winding through the nature trail.
Here's a brief history of this interesting plant:
Devils Fork State Park is located on Lake Jocassee off S.C. 11. Click here or call (864) 944-2639 for directions.