Nestled between the Blue Ridge Mountains on the way down from Asheville and Boone, NC, and before the hustle and bustle of Greenville, SC, sits the town of Travelers Rest, SC. It was aptly named as a place folks would stop to rest on long drives between destinations. Travelers Rest has become an amazing spot for foodies, lovers of breweries, outdoor enthusiasts, and tourists alike! For all the best places to eat, drink, and things to do and see, read on in this guide to see some of our favorite spots.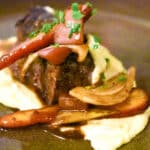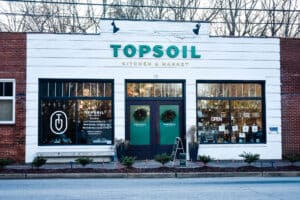 When it comes to food, being close to the mountains means more places to spread out, and that includes having access to farms and produce at your fingertips. Restaurants like Topsoil Kitchen & Marketplace take advantage of this to the fullest by being as farm-to-table as possible, sourcing from locally-owned growers as close as 2-10 miles away. Their chef's table dinners every Sunday highlight whatever is the freshest they can find at local farmers' markets.
Trubroth is similarly focused on bringing healthy food to the Upcountry through its renowned Vietnamese phó, bone broth-based soups, seasonal veggie dishes, and more. Sushiyama has become a hot spot for people who love seafood in TR (Travelers Rest), specifically for a "special" event known as "Tuna Cutting." An almost once-a-year occurrence, the head sushi chef brings in up to a 250lb Bluefin Tuna and cuts it up in front of about 40 people (the price can range to almost $250 per person, and there is a waiting list to attend), which is set up like an Omakase style 11-course meal (where the chef picks the courses and pairings depending on the cut of the tuna and his preparation preference).
Resident Diner is a newcomer to the area but is not one to be missed. With a funky atmosphere, rotating menu and brunch items, gourmet hot dogs and sandwiches topped with unique options like goat cheese and raspberry sauce, Collards, prosciutto, crumbled cornbread, and more, you've got to check this out!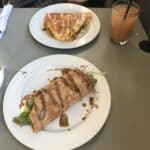 Last but not least is Tandem Creperie and Coffeehouse, another option to warm your soul after a drive down the mountains or a bike ride with friends on the nearby Prisma Health Swamp Rabbit Trail. They have gluten-free, vegetarian crepes, heartier options like the Lumberjack crepe, and a full coffee and tea menu to keep you toasty! Freshly squeezed juices, kombuchas, and handcrafted sodas are available to complement their savory crepe options as well.
For more brews and drinks in Traveler's Rest, drive to the nearby Tasting Room of TR, known as a wine and craft beer shop that specializes in small-production vineyard wines from all over the world. They also have numerous by-the-glass wine and beer offerings.
Swamp Rabbit Brewery is an amazing stop for in-house micro-brewed beer, along Main Street, across from Topsoil Kitchen. They often host fun events like trivia, food trucks, live music, and more, and they have a great outdoor area for folks to relax in warmer weather. Community Tap is one of two locations next door to Resident Diner in TR (the other being in Greenville, SC). With over 20+ beers on tap, multiple wines by the glass, and non-alcoholic selections to enjoy, like kombucha and craft soda, there's something for everyone, including on-site parking and access to the Swamp Rabbit Trail for biking!
The TR Tourism Board has put together this awesome map of Things to Do/See without ever leaving walking distance of Main Street, some of which we've pulled from on our list! For those that want to shop till they drop (while still supporting local), check out two of our favorites downtown – TR Makers Co and the Travelers Rest Farmers Market at Trailblazer Park. Both the local shops stock goods from local artists, food companies, artisans, and makers.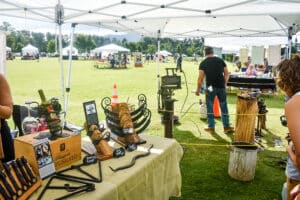 The almost year-round TR Farmers Market (which turns into a Christmas/Winter Crafts Market in the holiday months) takes up the entire field in Trailblazer Park and is one of the largest and longest-running farmers markets in the Upcountry!
For the history buff in your life, check out the History Museum of TR. According to their website, this museum "houses artifacts and exhibits related to Travelers Rest and the surrounding area, highlighting our history of being a resting place for people traveling back and forth between the mountains, the coast, and beyond."
Not far from downtown, Campbell's Covered Bridge is a popular spot to take pictures, as it is the only remaining covered bridge in the State of South Carolina, which historically once had 20 covered bridges scattered statewide. Poinsett Bridge (located in the Poinsett Bridge Heritage Preserve) was constructed in 1820; it is believed to be the oldest surviving bridge in the state. Named after Joel Poinsett, a prominent early resident of Greenville, the bridge was part of the State Road that connected Charleston and Columbia with the North Carolina mountain communities into Tennessee. You can see our Poinsett Bridge video here.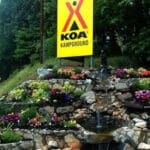 For our outdoor fans, hiking at Paris Mountain State Park or camping at both Paris Mountain State Park or the Travelers Rest KOA are two popular destinations in the area to put up your feet and enjoy the views of the Blue Ridge Mountains from TR.
For one last swing at the great outdoors, tee up to two of the best greens in Travelers Rest at Cherokee Valley Golf Course & Club and Paris Mountain Country Club. You don't need to be a member to play at Cherokee Valley, which also has one of Upcountry's up-and-coming restaurants, Core 450, in its clubhouse. Dine on chicken lollipops, fried green tomatoes, or tuna nachos, or try heartier options at their brunches, like a pimento cheeseburger or wagyu beef cowboy burger. Paris Mountain Country Club has become so popular that its membership roster is on a waiting list! From amenities like a pool with mountain views, a driving range, and The Grill, open to the public, you'll find plenty to do here for the whole family, membership or not.
From foodie destinations to outdoor adventures and breweries to the best places to buy local, Travelers Rest should be a must-stop on your next road trip – and not just as a pit-stop in between locales.
By Sarah A. Moore, Pimento & Prose Media
_______________________________________________________________________________
Are you looking for more adventures?
Visit the UpcountrySC website to find many options for places to stay, dine, shop, and explore.
Contact us when you're ready to plan your visit, or subscribe to our informative newsletter.