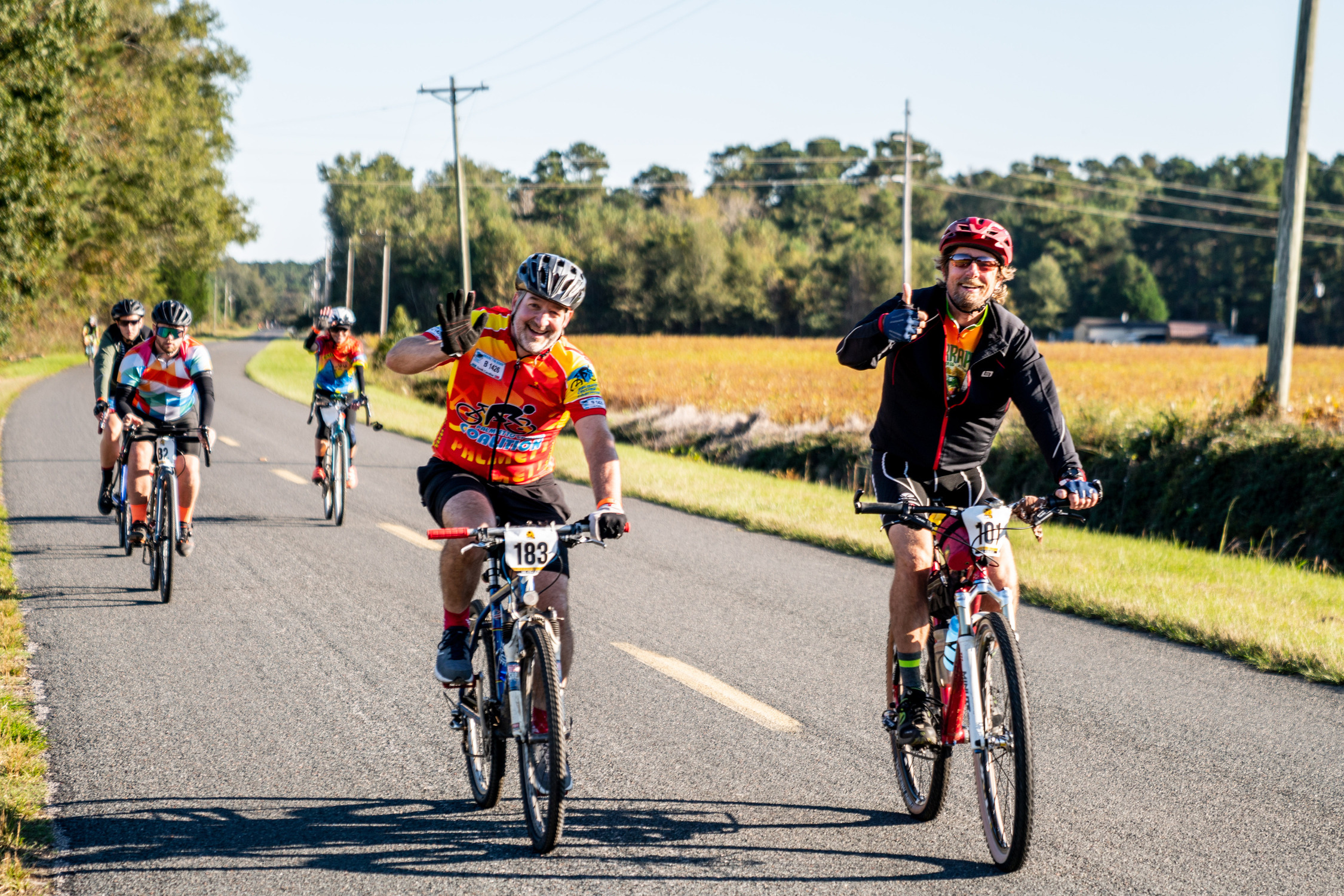 Bike Tours Offer Close-up View
Enjoy South Carolina's beautiful landscape by taking bike tours of Greenville, the Upcountry, and more!
With its beautiful landscapes, historic cities, and unique Southern cuisine, South Carolina has become a favorite destination for multi-day bike tours. Adventure-minded travelers who enjoy taking in the sights at a slower pace can choose from an array of bike excursions now being offered across the state.
These fully supported trips, many of them featuring luxury accommodations and dining at top restaurants, include tougher treks in the rolling hills and mountain roads of the Upstate. Daily rides typically cover 25 to 65+ miles, with route options for both recreational and avid cyclists. High-performance bicycles are included in some of the trip packages; others offer rental bikes. The luxury "adventure" excursions also feature admission to museums and attractions, guided walking tours, kayaking, hiking, and boat rides.
Ready to saddle up and pedal forth on your next vacation? Here are some awesome bike tours available in South Carolina:
Trek Travel
Trek Travel has four- and seven-day luxury trips in the Upstate with daily ride options from 18-96 miles and 1,200 to 7,100 feet of climbing
The terrain: A favorite training destination for professional cyclists like 17-time Tour de France competitor George Hincapie, the South Carolina Upstate features scenic country roads, rolling hills and epic climbs against the backdrop of the Blue Ridge Mountains. "Lite" bike tours are available for recreational cyclists.
Extras included: Hotel accommodations, snacks and drinks, daily continental breakfast, two to four lunches, and dinners depending on the length of the tour.
Bicycle Across South Carolina
You can bicycle across South Carolina on a multi-day ride held annually in the fall with two routes covering 25-30 miles or 50-60 miles each day
The Terrain: Trips may vary annually and can include treks from the Midlands to the coast and the Midlands to the Upstate. Designed for bikes with wider, knobby tires, the routes include scenic, off-the-grid trails, with at least 80 percent dirt surface and 20 percent pavement.
Extras: Campsites, daily breakfast, snacks, lunch and locally sourced dinner and beer nightly, live music, kayaking, and paddleboarding, boat rides, walking tours, campfires (participants must provide their own bikes, tent, and equipment).
Backroads
Backroads multi-day luxury trips include Charleston and Savannah Adventure Tour, Charleston Weekend Getaway, Georgia and South Carolina's Underground Railroad Adventure Tour, and Carolinas Bike Tour from Greenville to Asheville with 9- to 29-mile routes
The Terrain: Lowcountry tours take riders through the streets of historic Charleston, Beaufort, and Bluffton; the Upstate tour includes stops in Greenville, Travelers Rest, Saluda, Brevard, and Ashville with optional daily routes featuring 500 to 4,800 feet of elevation gain.
Extras: Accommodations at luxury hotels (Montage Palmetto Bluff, George Hincapie's Hotel Domestique, and The Inn on Biltmore Estate), daily breakfast, snacks, three to five lunches and two to four dinners, road or touring bike, kayaking (on adventure tours), private tours at museums, historic sites, and other attractions.
Carolina Tailwinds
Carolina Tailwinds provides a five-day tour through the Blue Ridge Mountains and a six-day tour in the Lowcountry with 25-50+ mile rides each day.
The Terrain: The Lowcountry trip is on easy, flat roads in Beaufort, Charleston, and several sea islands; the Blue Ridge trip features rolling hills and challenging climbs to Caesars Head State Park, Jumping Off Rock, and the 17-switchback Green River Cove.
Extras: Lodging at boutique inns, daily breakfast, snacks, four lunches and three dinners, carriage tour of downtown Charleston, guided hikes, a tour of a tea farm on Lowcountry trip.
Article by Marie McAden for DiscoverSouthCarolina.com
____________________
For more on biking in the Upcountry, visit bikeupcountrysc.com where you'll find rides, rentals, and races.