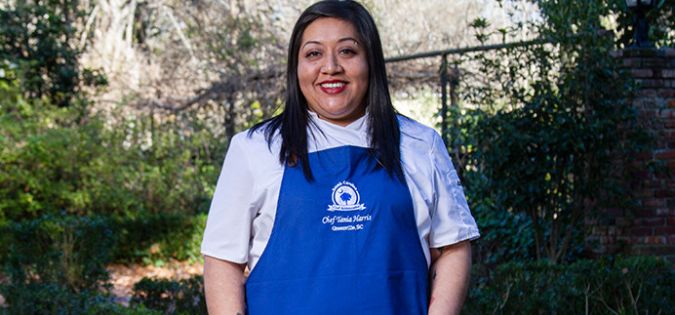 Meet 2019 Chef Ambassador Tania Harris
By Libby Wiersema
For Tania Cienfuegos Harris, her grandmother's way with "mind-blowing" moles and other savory, made-from-scratch dishes served as mighty inspiration when she chose a culinary career. Born in Mexico City to hard-working parents, she spent her formative years in "Amparito's" kitchen, observing her techniques and learning the fine points of baking.
These precious memories often loop through her mind while performing her own bake-craft at the Lazy Goat in Greenville. As a pastry chef, she combines the cooking habits she was taught as a child with a new-found love for Southern ingredients. The results have put her on the pastry map and made her a natural choice to represent the state as a South Carolina Chef Ambassador for 2019. As part of an initiative begun by former Gov. Nikki Haley, each year chefs from across the state are selected to promote South Carolina's culinary heritage and local food culture through cooking demonstrations, guest appearances and educational programs.
Harris was born with a strong creative flair, though it took her a few years to discover that food was more than an expression of familial love—it was also her preferred art form. So, she decided to hone her artistic skills by earning a bachelor's degree in Culinary Arts from the Colegio Superior De Gastronomía in Mexico City. Upon graduation, she worked abroad for a year, then landed in Texas where she joined the pastry staff at a large resort and solidified her love for baking cakes, breads, pies and more. She was mentored by Thai chef Tong Suvanaratosot, from whom she learned chocolate and sugar techniques. From there, it was back to Mexico City where she created recipes for Nestlé and wrote several cookbooks. Soon, her desire for new experiences nudged her to Greenville, where the final career ingredient was added to her already impressive aesthetic: a broader understanding of farm-to-table ingredients and how they define the vibrant food scene in South Carolina.
Read more: https://discoversouthcarolina.com/articles/meet-tania-harris-south-carolina-chef-ambassador-2019