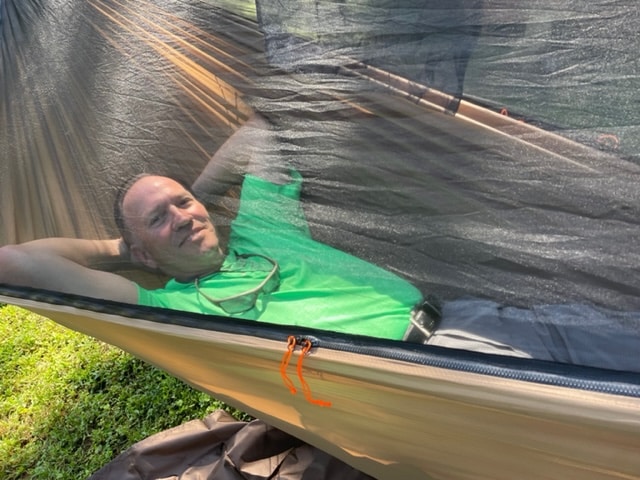 Walhalla Hammocks
We took a field trip to meet Jason Flowers of Walhalla Hammocks and Outdoors.
I'd heard about Walhalla Hammocks through some camping and hammock forums, and of course, since it had Walhalla in the name, I knew I had to visit. Walhalla is a town right off South Carolina Scenic Highway 11, near Sumter National Forest. Here's a map of the area.
Jason has been making hammocks for five years, building them in his living room and on his porch. What started as a pastime for his son and friends has now become a part-time job.
"It takes me about 8 hours of labor to build a hammock. About 6 hours for a tarp,".
"Everything is customizable, from glow-in-the-dark zipper pulls to custom graphics," Jason says.
He makes hammocks, tarps, lay-down cloths, zipper bricks, trail wallets, and pillows.
Here we see a work in progress, as he is just pinning this netting on this 1.5 monolite hammock. The black material is the hammock, and though you can see through it, it is rated for 450 pounds!
We tested out five hammocks and learned that the material determines how much stretch it has, so whether you like a soft bed or a more rigid bed, there is a material for you. We got comfy real quick, and each hammock was more challenging to get out of than the last.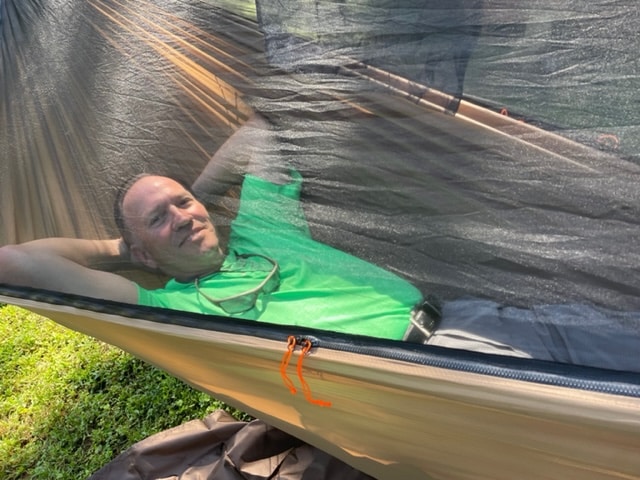 Here is some customization of Jason's personal hammock and a winter tarp with 'doors' to keep that bad weather out. Finally, he showed us his double pole mod tarp that creates a large living space without much knot tying. For a price list and more information, visit their Facebook page and follow along on their adventures on their Instagram account.
No trip to Walhalla would be complete without visiting Main Street, where we found this very cool waterfall at the offices of VisitOconeeSC.com. One of the things Oconee is known for is its waterfalls.
Looking for places to camp in the Upcountry? Here are our recommendations. See you on the trail!
On another trip to Walhalla, we caught with Jason and got it all on video: