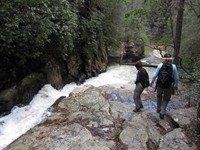 Chauga Narrows begs the question. Is it a waterfall or whitewater?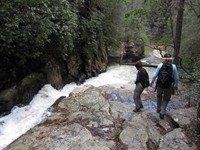 The rush of water through the chute will leave you breathless. Past the narrows, the Chauga River drops into a quiet pool that's a favorite with local fishermen.
When it comes to waterfalls, size matters. The higher the drop, the more impressive the cascade — or at least that's the conventional wisdom.
I'm here to challenge that premise. As proof, I offer exhibit A: Chauga Narrows. Spilling a mere 25 feet over a 200-foot run in South Carolina's Upcountry, one might argue this puny waterfall is hardly worth a mention.
But don't be so quick to judge the Chauga until you've heard this baby roar. After a short, tiered fall, the river is squeezed into a two- to three-foot channel of rock, creating a rush of water that will leave you breathless.
The really cool part is that you can stand at the edge of this raging torrent and feel the phenomenal power of Mother Nature. The water gushes through the chute like nobody's business, thus proving my argument — you don't have to fall far to fall hard.
So why is this watery wonder so underrated and underappreciated? The answer is twofold. No. 1, Chauga Narrows is as much whitewater as it is waterfall. The rapids have been rated Class VI, the most dangerous level of whitewater. This monster is so treacherous, it is virtually unnavigable.
No. 2, the Narrows are located in a remote area of Oconee County. While the river is a favorite of local trout fishermen, it's overshadowed by its well-known riverine kin to the east — the National Wild and Scenic Chattooga River.
The hike to the Narrows is not long, but can be a bit tricky. The .6-mile trail follows the left side of the river downstream from the Blackwell Bridge on Whetstone Road. You can walk along an old dirt road or find your way through the brush by the river's edge. On my recent visit to the falls, I chose the latter. We had to do a little bit of scrambling, but we enjoyed the view of the river all along the way.
At one point, the river takes a 90-degree turn. If you've walked along the road, that's the end of the line. From there, you'll follow a well-worn path over roots and fallen trees down to the river. It's a challenging descent on what can be a slick hillside.
Go for it! When you get to the Narrows you'll be glad you did.
For directions to Chauga Narrows, click here.
By Marie McAden, SC Insider
Visit more waterfalls in the area.  Click here for descriptions & directions.