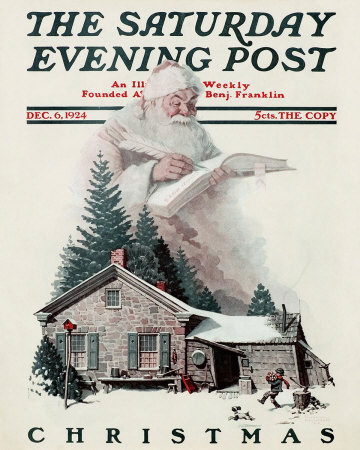 Norman Rockwell Holiday at Upcountry History Museum
Visit the Upcountry History Museum-Furman University, a Smithsonian Affiliate, as it ushers in the holiday season with Norman Rockwell's Home for the Holidays exhibition and four of Rockwell's full-sized original oil paintings.
Considered America's most prominent 20th-century illustrator, Rockwell was an astute visual storyteller and masterful painter who was able to capture the emotions, humor, and memorable faces of the mid-20th century in his iconic works. During his 47-year affiliation with The Saturday Evening Post, he was celebrated for his special holiday cover illustrations, which were commissioned to mark a full spectrum of annual events from Thanksgiving, Christmas and the New Year to Valentine's Day and April Fools' Day.
Featuring more than 40 of his most memorable holiday images and four of his original oil paintings, this exhibition, on display through February 27, 2022, illuminates Rockwell's hopeful view of humanity while conveying stories about people and their attitude toward each other, thus helping shape the holiday season for all generations. Among his best-known illustrations are scenes that capture the essence of American holiday traditions. Whether it is the presentation of mouth-watering turkey at the Thanksgiving table or a rosy-cheeked Santa checking his list to see who's naughty or nice, the illustrations simply convey Americana. In a rapidly changing world, Rockwell's art has been a reassuring guide for more than six decades, and it continues to resonate today.
In addition to the original oil paintings and The Saturday Evening Post covers, the Museum, in partnership with the Norman Rockwell Museum, will also display other drawings and artifacts which are on loan from the Stockbridge, MA, Museum.
The Upcountry History Museum is located at 540 Buncombe St., in Greenville, S.C. Hours of operation are Tuesday through Saturday from 10:00 a.m. – 5:00 p.m.; Sunday from 1:00 – 5:00 p.m. For more information, visit www.upcountryhistory.org or call 864-467-3100.
Want More holiday adventures?
Check out our lists of Events in the Upcountry.
If you are considering a visit to the Upcountry, visit the UpcountrySC website to find many options for places to stay, dine, shop, and explore.
Contact us when you're ready to plan your visit or subscribe to our informative newsletter.