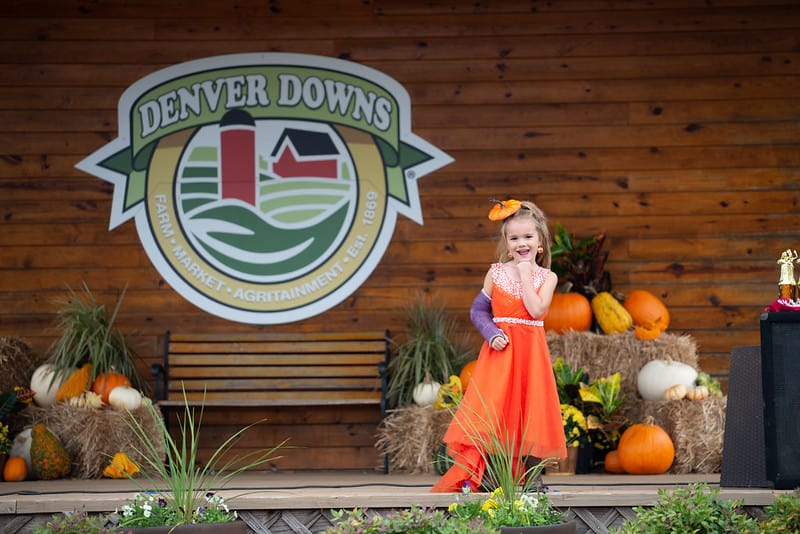 Pumpkin Festival at Denver Downs Farm
"Denver Downs has 50 tons of pumpkins this year and really, what better way to celebrate the iconic fall symbol than a whole weekend dedicated to pumpkin-themed family fun?" said Catherine Garrison Davis, co-owner and special events planner for Denver Downs Farm. "My personal favorite is the Pumpkin Princess Pageant, a fun, casual outdoor pageant where little princesses ages 8 and under wear whatever they imagine a pumpkin princess would wear. It's the sweetest thing and families love participating!"
Celebration of pumpkin season with the Pumpkin Festival at the award-winning, family-owned Denver Downs farm in Anderson, SC. The weekend consists of all things pumpkin: Pumpkin Princess Pageant, Pumpkin Pie Eating Contest, Pumpkin Bowling, Pumpkin Carving competition. It is also College Student Discount Weekend where students with a college ID will receive a discounted ticket admission of $12 on Saturday and Sunday.
WHEN: Friday, October 2 – Sunday, October 4
WHERE: Denver Downs Farm, 1515 Denver Road, Anderson
SCHEDULE:
Friday, Oct. 2
6pm Pumpkin Pie Eating Contest
7pm Chris Stokes performing on stage
Saturday, Oct. 3
12 noon Pumpkin Princess Pageant
4:30pm Pumpkin Pie eating contest (sign up at ticket barn)
7pm- 9pm Will Sheehan Band
Sunday, Oct. 4
2pm Spencer Rush on stage
4pm Pumpkin Carving Entries Due
5pm Pumpkin Pie Eating Contest (sign up at ticket barn)
Additional Information:
Clemson Day at the Maze on Sunday – Denver Downs and the Anderson Area Clemson Club are hosting the annual Clemson Day at the Maze- Sunday, Oct. 4 from 1pm-6pm. $2 of each Clemson student or alumni admission will be donated on their behalf to the Clemson Fund.
Artist Steven Jordan, will be selling and signing his new Clemson Prints.
The Suite Boutique – Clemson clothier will be at the farm.
Catherine Garrison Davis and Elizabeth Garrison Rasor will be signing copies of "Night Night Little Tiger."
If you are considering a visit to the Upcountry, check out the UpcountrySC website to find lots of options for places to stay, dine, shop, and explore.
Contact us when you're ready to plan your visit or subscribe to our informative newsletter.