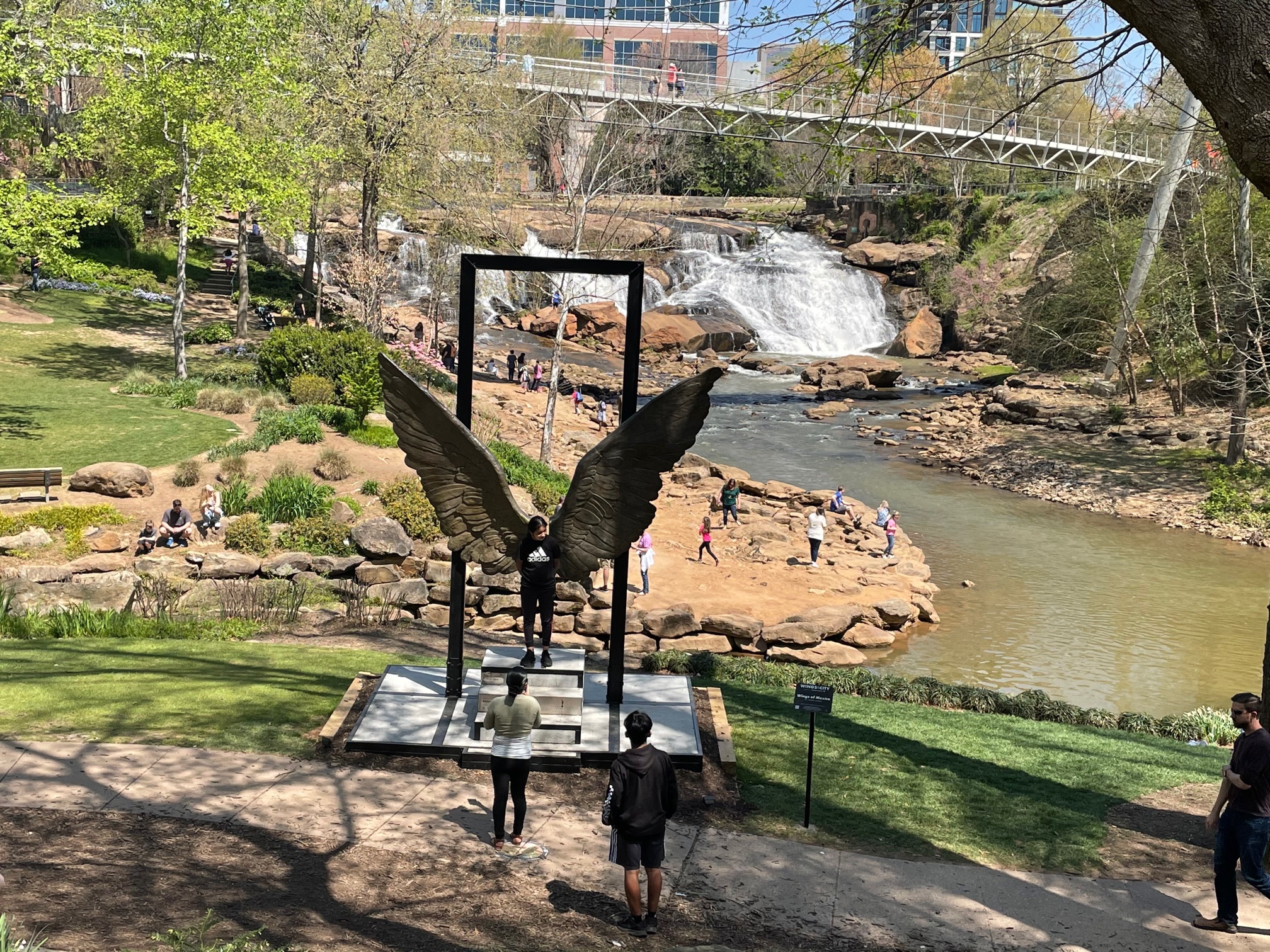 Wings Of The City
It's exciting to be first, and Greenville is the first East Coast city in the US to host world-renowned artist Jorge Marin's exhibit.
The Arts in Public Places Commission approved plans for Greenville to join a select group of cities from around the globe that have hosted Wings of the City, a collection of nine monumental bronze sculptures by world-renowned Mexican artist Jorge Marín.
The sculptures were installed in Falls Park and on the Peace Center campus in April and remain in Greenville until October 2021. Find their locations with this map.
Marín is one of the most recognized figurative artists in Mexico. He has participated in more than 300 collective exhibitions, and individually, his work has been exhibited in museums in Europe, Asia, and North and South America.
Alas de México, the iconic sculpture from the Wings of the City collection, is on permanent display in 13 cities on three continents.
What's Next?
When you are checking out the sculptures, you are steps away from Main Street, filled with delightful shops and delicious eateries. Stretching from the north end of town near NOMA Square and ONE City Plaza, down past the performing arts center, across the Reedy River, and reaching all the way to the classic minor-league ballpark in the city's West End, Main Street is a collection of one-of-a-kind boutiques, marquee retailers, independent coffee shops, diverse chef-driven restaurants (including some with outdoor and rooftop dining), fabulous galleries, and so much more. We'd suggest you make a day of it. With hotels within walking distance, it is an easy decision to stay the night. Perhaps take in a show or a ball game.
Visit the Upcountry
When you decide to visit the Upcountry, check out the UpcountrySC website, where you will find many events and options for places to stay, dine, shop, and explore.
Contact us to plan your visit or subscribe to our informative newsletter.